Hello Adventurers,
Case1)
If you cannot see any of your previous characters after user transfer, or you face with errors during transfer, please be aware of the following.
Step1:
Log out from everything (including Dragon Nest Game).
Step2:
Create new EYE account in https://sea.dragonnest.com/member/Account/SignUp and finish the email verification.
! Please do not log in into the game with a new EYE account before you finish all transfer steps here.
! Please use your real email address from @yahoo.com or etc. cause you have to verify the email.
Otherwise, you cannot transfer.
Step3:
After verification of your e-mail (MUST), please make sure log in https://sea.dragonnest.com again.
Step4:
Click the Banner "Transfer Now" below PM Tasha's BLOG
Step5:
Please click "Apply for Transfer" and click "OK" to go to Cherry's transfer Page
Step6:
Please log in with your Cherry Account (to transfer) and Select Cherry Game Account > Apply Transfer
! If you cannot remember ID or PW or PinCODE of your Cherry Account, please contact Cherry.
Step7:
Step5 will get you to be in EYE transfer page again. Please click "Apply for Transfer" again.
Step8:
In your mail box, open up verification email and click "Click Here".
Step9:
Check your account name and click "OK"
Step10:
Now you can log in into the game now with your new EYE account!
---
Case2)
Although you did Case1) solution already, If you still cannot find your previous character info. from the transferred account (from Cherry to EYE) or face with any other problems, please get back to us with 1:1 Inquiry (https://sea.dragonnest.com/support/request).
When you make a 1:1 inquiry, please make sure to write up these 3 things.
1) your problematic accounts name :
2) suspicious character names :
3) transfer date and time :
---
Case3)
If an error message popped up in the middle of launcher patch as the example photo, please follow the instructions as below.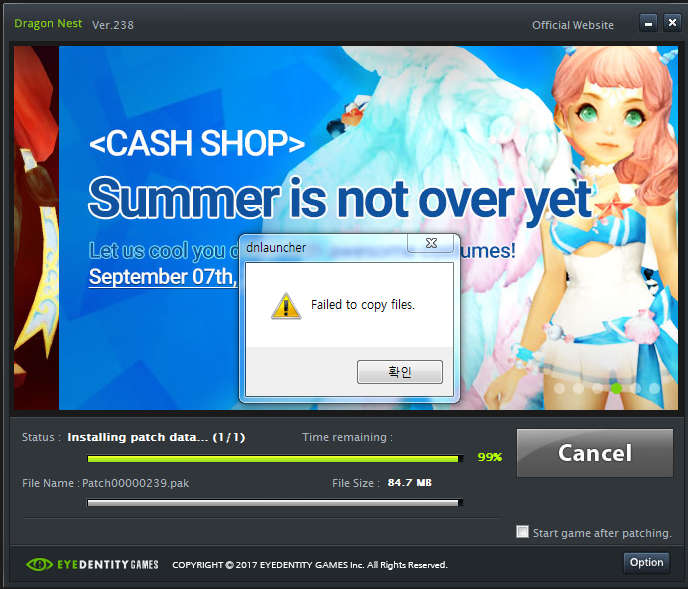 1. Find your Dragon Nest Shortcut from your desktop.
2. Right-Click>Go to Properties>Compatibility Tab
3. Click "Run as Administrator"
---
Case4)
If you face with being stuck in patching process please try the manual patch as below (https://sea.dragonnest.com/game/download).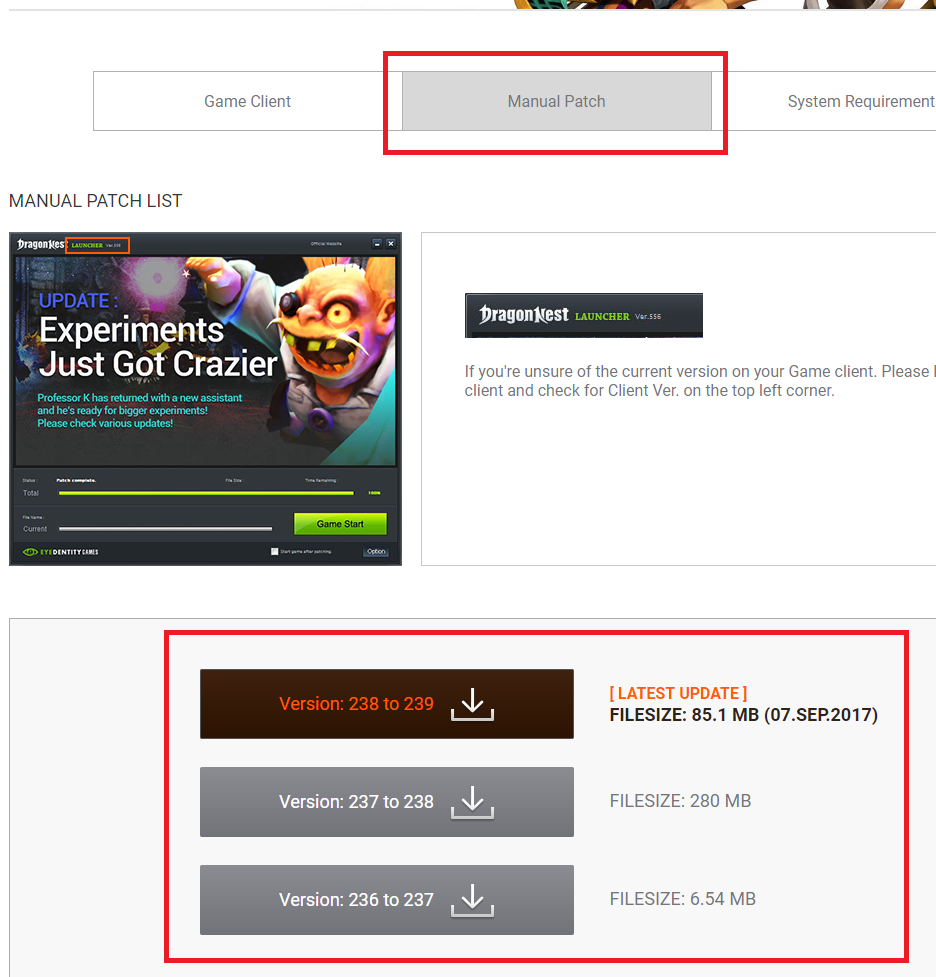 ---
Case5)
If you are suffered from random DC or patch error, please reinstall your DN with one click solution (https://sea.dragonnest.com/game/download).

---
Case6)
If you have a XIGNCODE error or fail, please refer to this guideline (http://www.wellbia.com/faq/index_en.html).
Thank you in advance.
Eyedentity Games