Good afternoon, this is [GM]Loren.
I'm happy to inform all of you the below issue has been finalized completely on 13th September.
All temporary bans that were made for investigation have been removed wholly on 10th September and re-delivery for a mistaken deduction has been completed via mail system on 13th September.
Very appreciated for kind patience and once again, apologize for the issue. Rest assured, we firmly promise to prevent this type of issue in the future.
For those who were temporarily banned, our team prepared small compensation likely below so please make sure to claim them from 20:00 PM on 13th September via Special Storage until 21st September midnight.
All compensation rewards can be received with level 95 characters.
■[Compensation for 1-day ban player]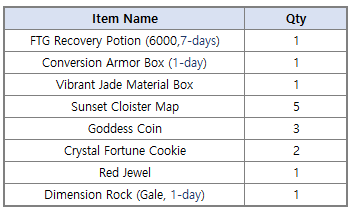 ■[Compensation for 3-days ban player] (Updated as of 13th Sep, 18:11 PM, GMT+8)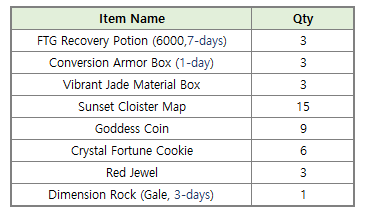 Along with these, as a sign of apology for not enjoying the anniversary log-in event, the special hats will also be sent under one selectable option.
Please make sure to receive the hat before 20th September midnight via Special Storage.
More, for those who have persists any problem with this issue, please come to 1:1 Inquiry before 17th September with your account information.
Our team is always ready to help you happily.
Best regards,
[GM]Loren
---

Good morning, this is [GM]Loren.
There is news that was not involved in the service resumption notice, so I'd like to inform all of you in addition to this post.
We've also confirmed that there is a recall of the history of Lindsay tokens and mounts with the issue from some players who are not related to the acquisition issues and additional measures for them will be applied in the near time.
On behalf of the team, I sincerely apologize for not providing stable service and prompt operational help.
The Anniversary Log-in event, which should have been fully held for 1 day on September 7, has been extended until midnight today, so please check your Special Storage and claim them.
In addition, we will continue to review to update adventurers if there is any other support available like this.
Rest assured, we will do our best to apply the countermeasures as soon as possible and ask for your kind understanding.
Best regards,
[GM]Loren