Dearest Adventurers,
Hello, this is [GM]Loren again. Following the previous notice, I'd like to share an interim report regarding Lindsay token issue with this post.
Link: https://sea.dragonnest.com/news/notice/all/751
Our team keeps applying countermeasures prepared by generously investing possible manpower and all working time after the issue occurred.
Assuredly, we also support immediate account sanction release at the same time as the verification is completed, and the remaining database investigation work is also progressing rapidly at once.
In this progress, we are also doing our best to respond to some newly discovered issues and cases, and as we promised again, all of our service and dev teams will do our best until we complete this issue thoroughly.
Once again, I apologize on behalf of the team, and I prepared small gifts so that all adventurers can have an enjoyable Dragon Nest playtime over the weekend.
Log-in in this weekend and claim the following gifts through Special Storage with a level 95 character.
※ The quantity of Board Game Season 8 Coin has been changed by reviewing the item balance. (09.10 17:50 GMT+8)
Before Update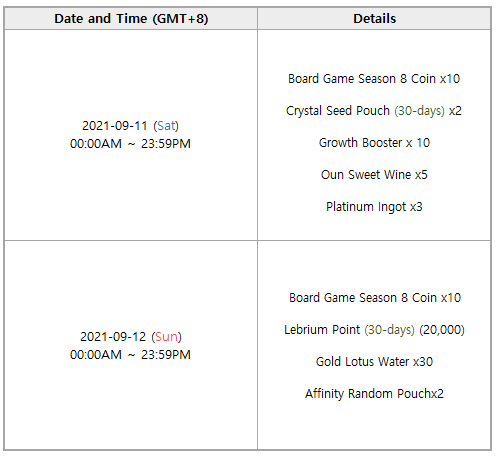 After Update
Date and Time (GMT+8)
Details

2021-09-11

(

Sat

)


00:00 ~ 23:59

Board Game Season 8 Coin x5
Crystal Seed Pouch (30 Days) x2
Growth Booster x10
Oun Sweet Wine x5
Platinum Ingot x3

2021-09-12

(

Sun

)


00:00 ~ 23:59

Board Game Season 8 Coin x5
Lebrium Point (30 Days) (20,000)
Gold Lotus Water x30
Affinity Random pouch x2
Ask for your kind patience and thank you for your understanding.
Best regards,
[GM]Loren