- All clear results of Sunset Training Ground will be registered in the [Ranking] Page
- In the [Ranking] Page, you can check your rank by selecting [Sunset Training Ground]
- Start Labyrinth 14th and above, you will get the effect of [Labyrinth's Cruelty].
- Effect will apply on Sunset Training Ground Labyrinths 14th and 15th.
◆ Special Title

Once you clear the mission. You will be able to receive a special title
※ Check [Mission]
* Menu (default hotkey L) ▶ Dungeon(Special) ▶ Sunset Training Ground (Select)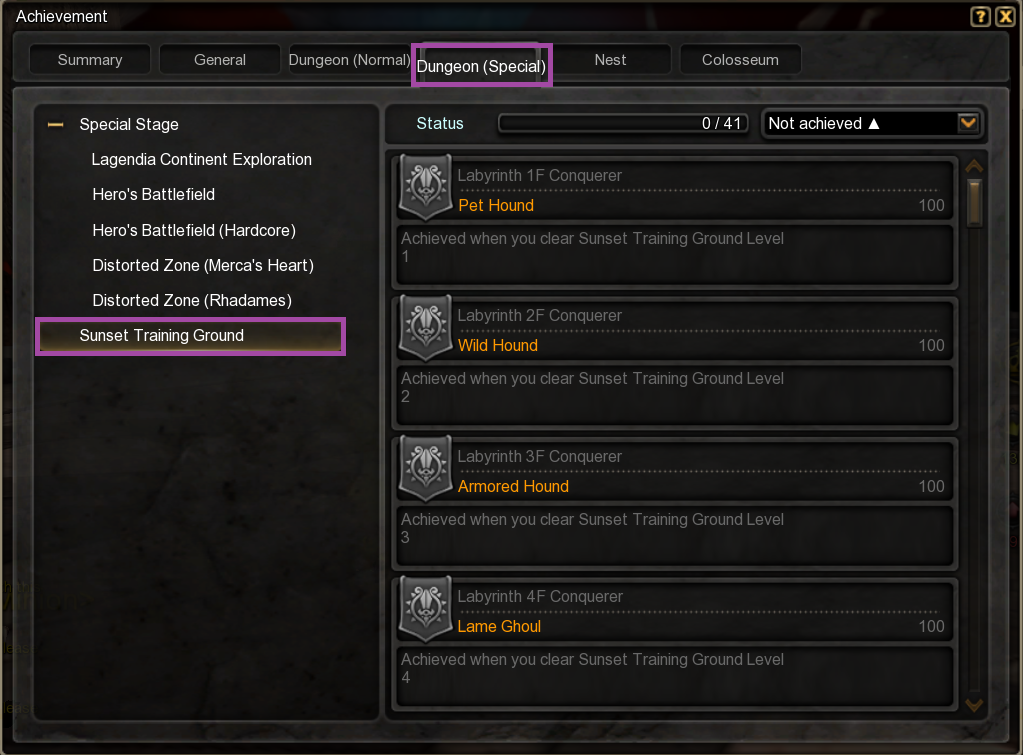 - Clear Title will contain [Title Effect].
- Aside the Clear title, each challenge status will let you receive different mission and titles.
※ Title above Labyrinth 16th above will receive once the difficulty is released.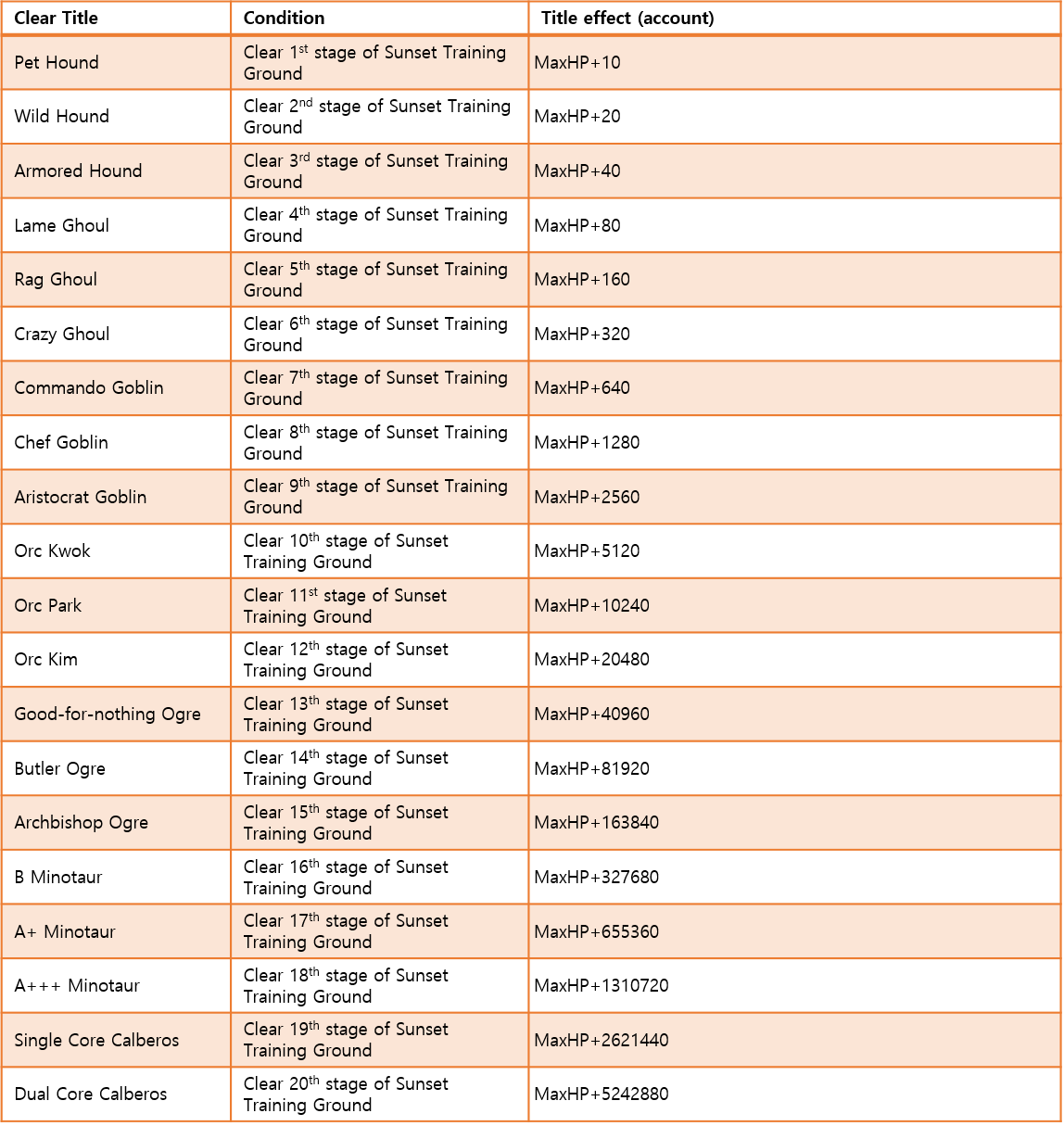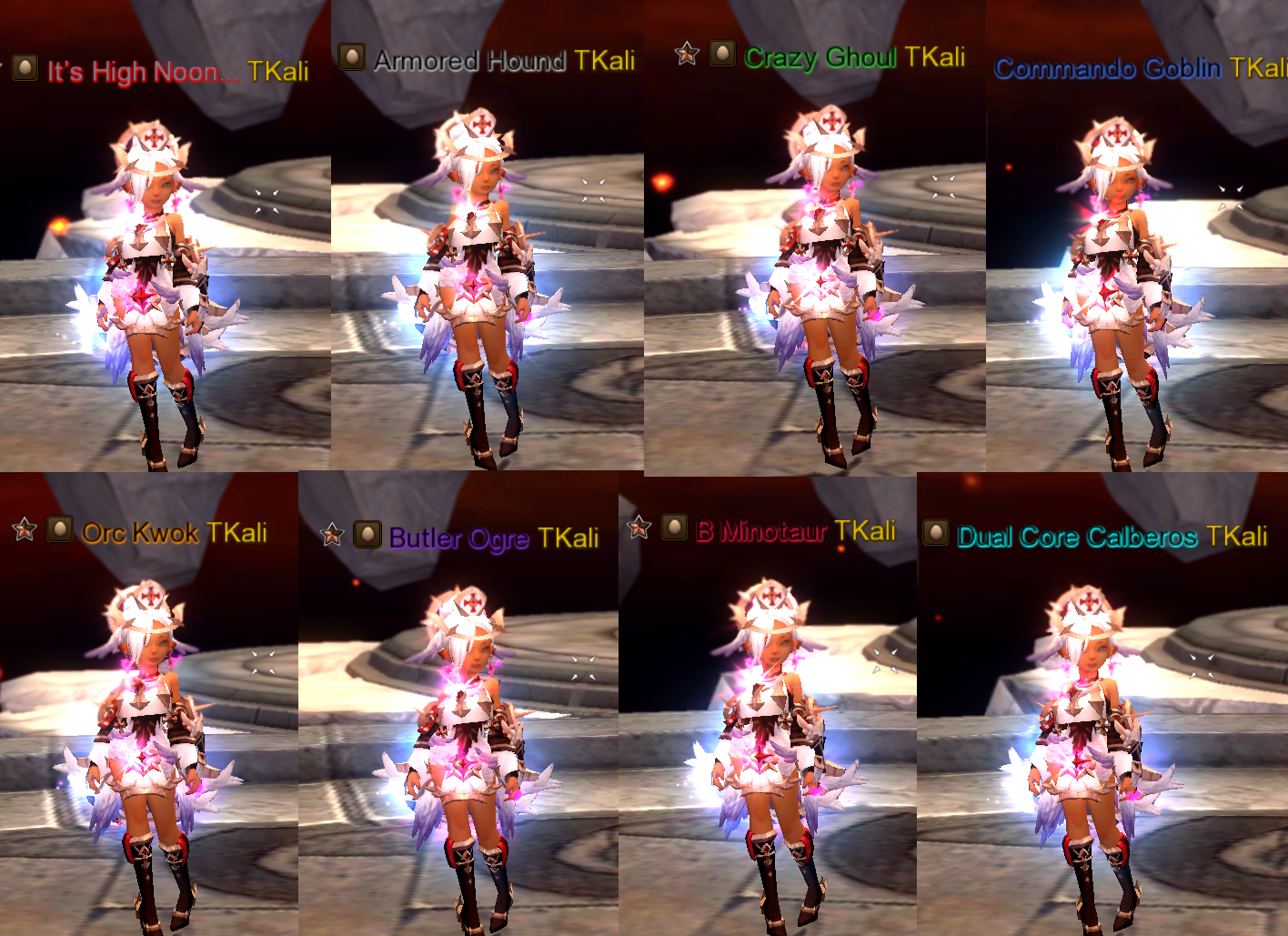 [2] Changes/Additions
2-1. Dreamy Dragon Jade Enhancement & Disassemble
1. [Dreamy Jade Enhance]
You can enhance Dreamy Jace 1st to 10th stage
Enhance effect will apply the skill that is applied with Dreamy Jade
[Dreamy Jace Enhance information]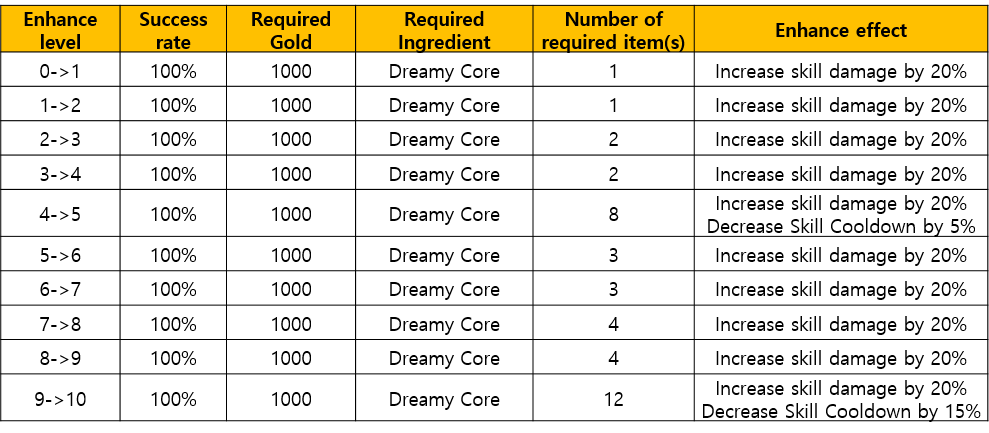 - Enhance effect will accumulative (if you enhance 2nd level. Skill damage will increase by 40%.
- Dreamy Core that use for ingredient requires Dreamy Jade of same class.
2. [Disassemble Dreamy Jade]
- You will receive 1~2 Dreamy Core of Class you disassemble.
※ Developer's Comment : Damage increase calculation is same as below.
- Basic skill Damage * (Damage increase due to EX Skill + Damage increase due to Awakening + Damage increase of +0 Dreamy Jade) * Damage increase by enhance of dreamy jade
- EX) If the Plasma burst's basic damage is 100
Plasma Burst EX : Increase of damage by 50%
When equip +0 Dreamy Jade : Increase of damage by 20%
100 * (50% + 20%) * Increase of damage % based on enhance level
if the enhance level is 5. calculation will be 100 * 1.7 * 2 and final damage will be 340
2-2. Crystal Point Shop Costume Update
A new addition has been made at the Crystal Point Shop this December : Rare Costume Set!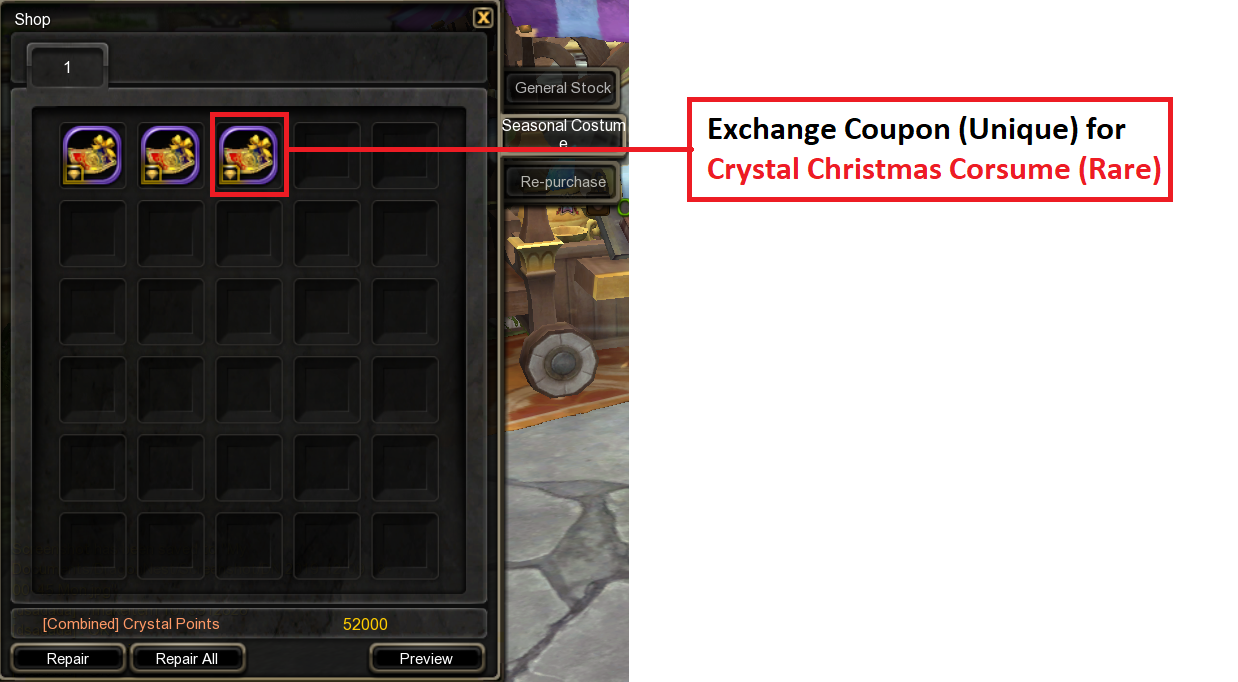 Crystal Costume (Rare)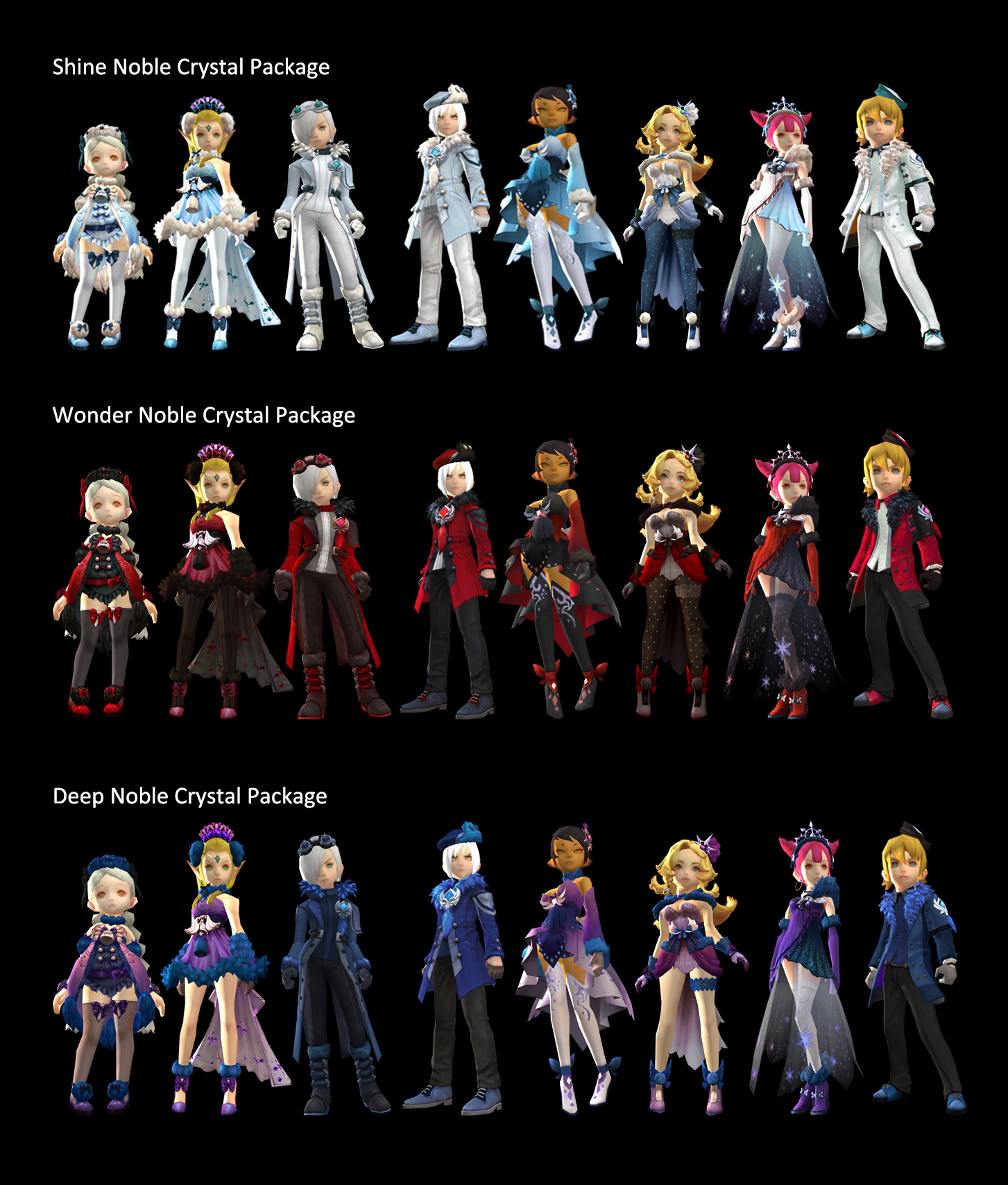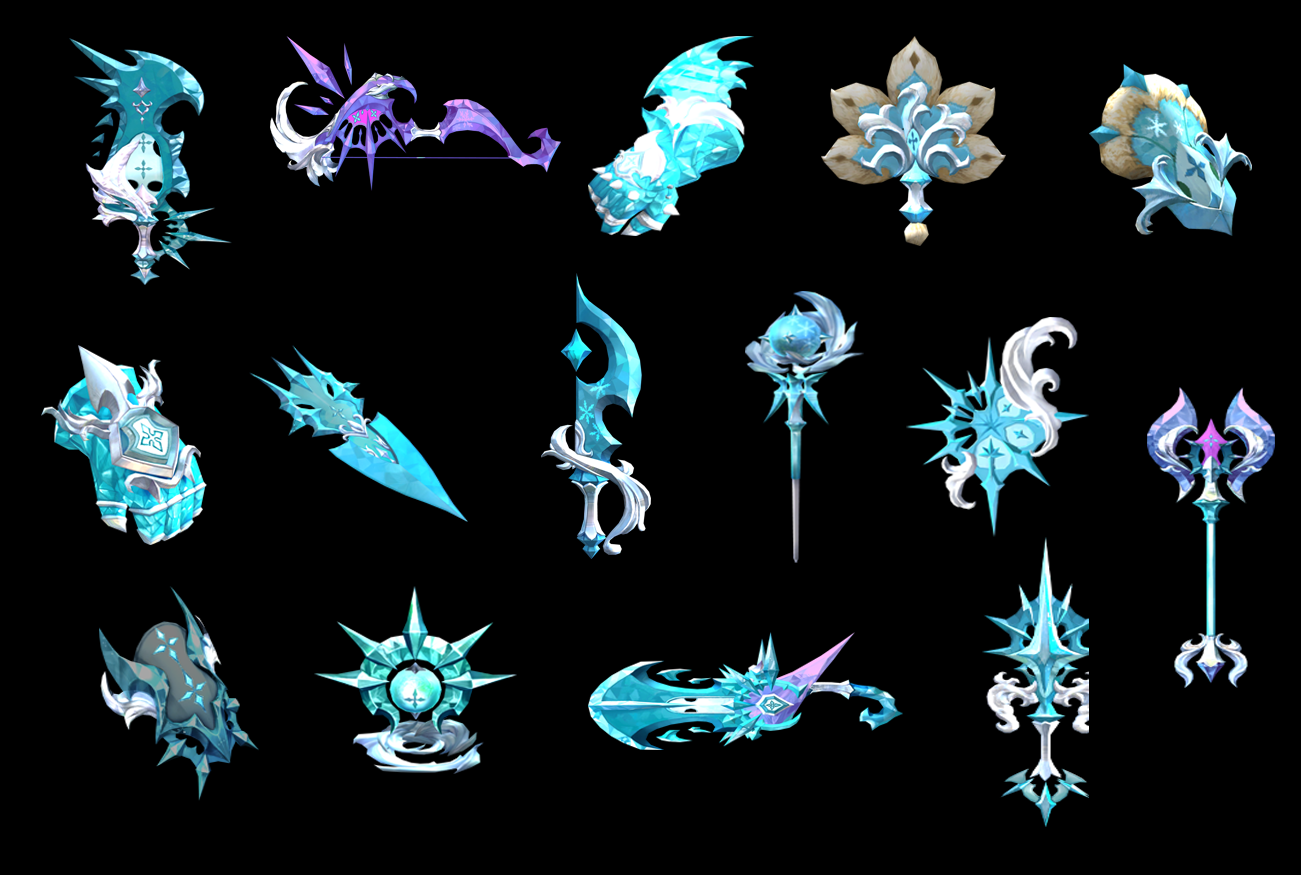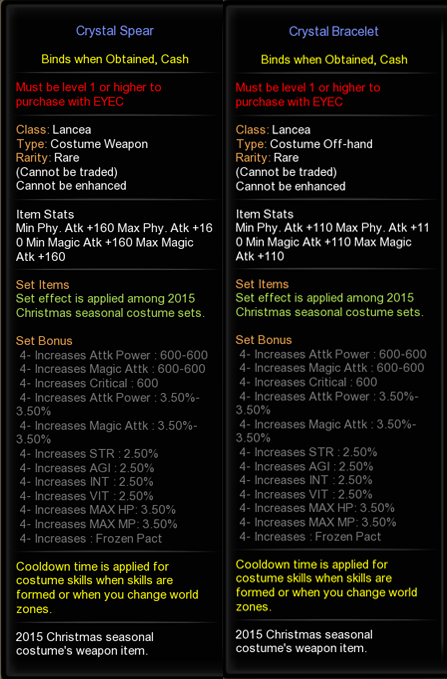 [3] Balance
3-1. Dreamy Dragon Jade Balance Changes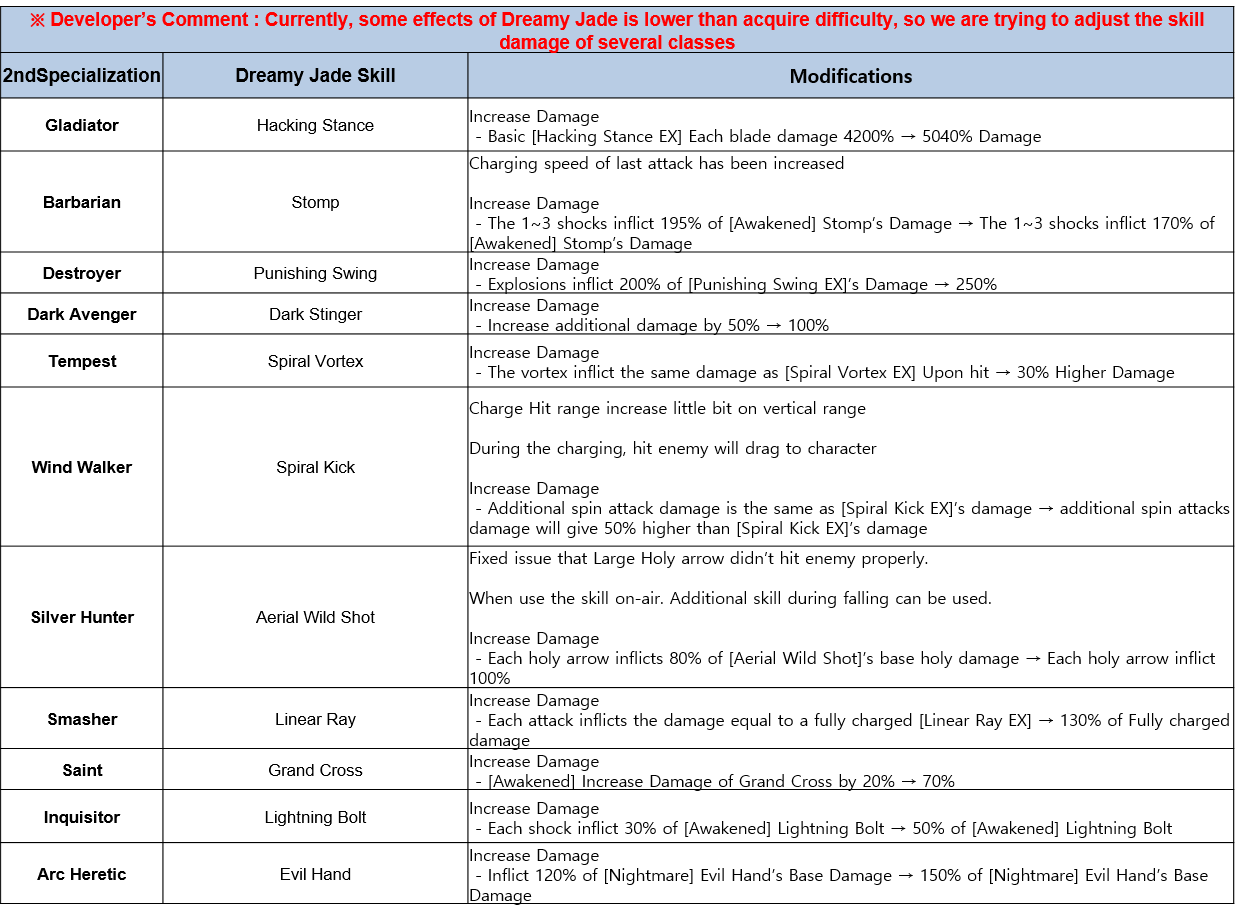 3-2. December PVE Skill Balance Changes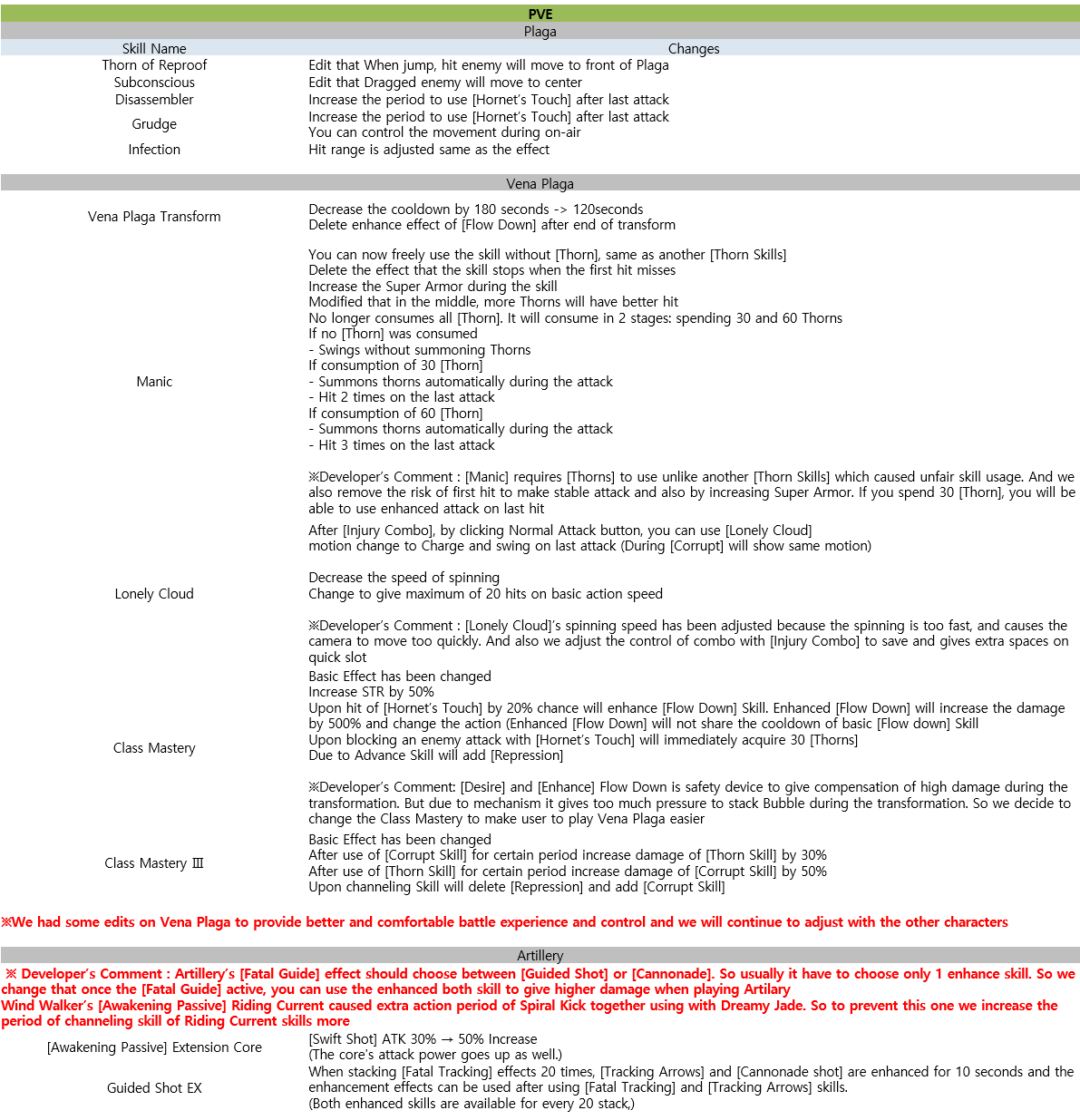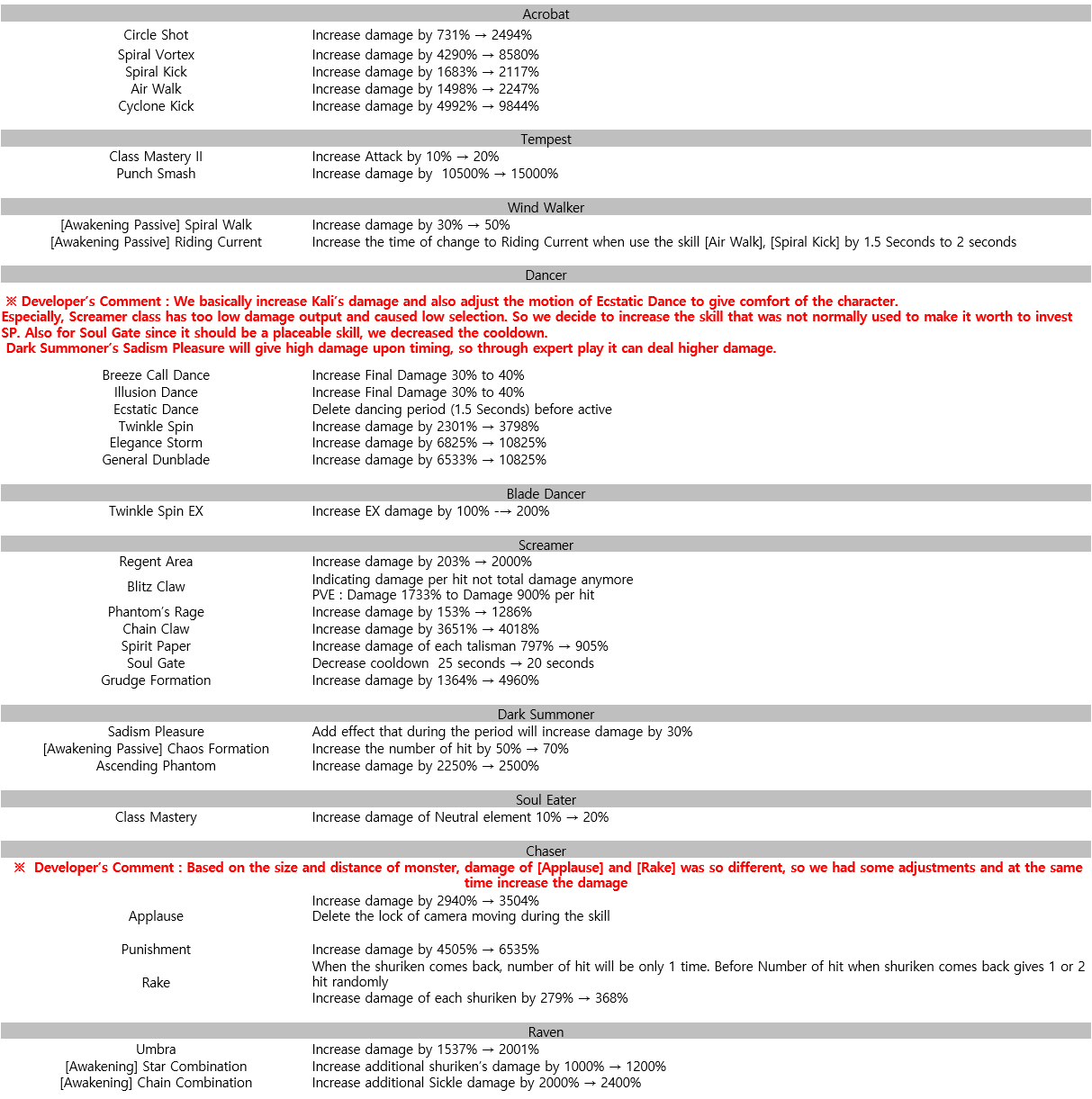 3-3. December PVP Skill Balance Changes
3-4. Vena Plaga Skill Icon Change
Color of [Thorn Skill] skill icon has been changed.

[4] Event
4-1. 2019 Christmas Event UPDATED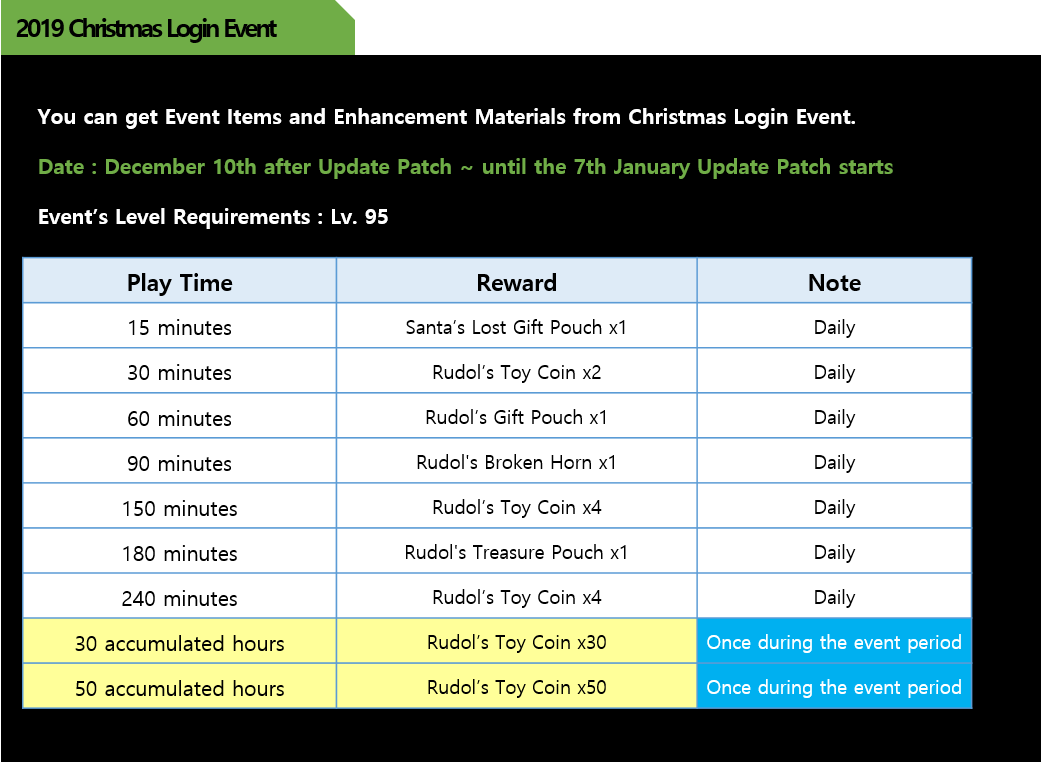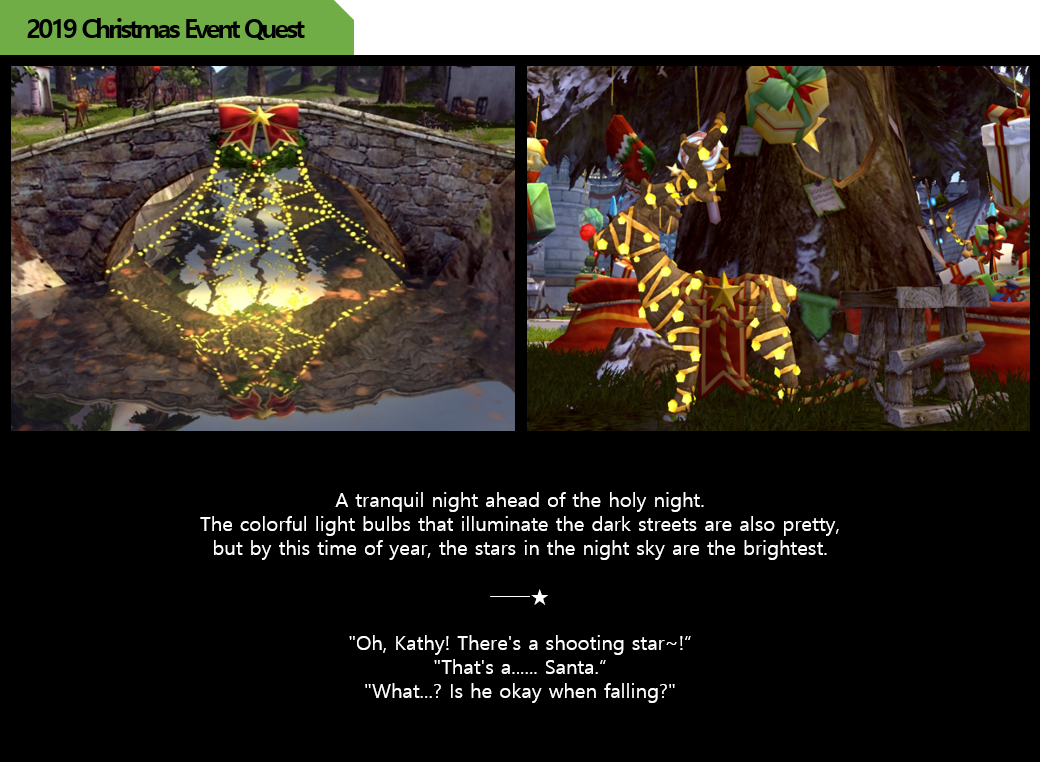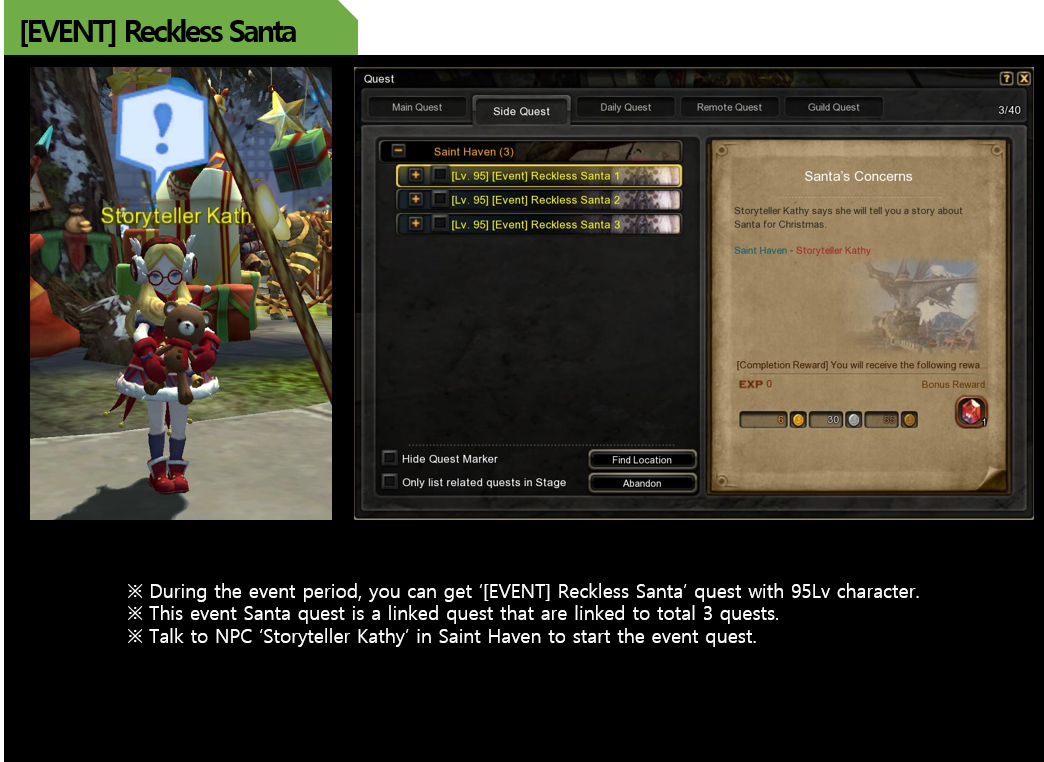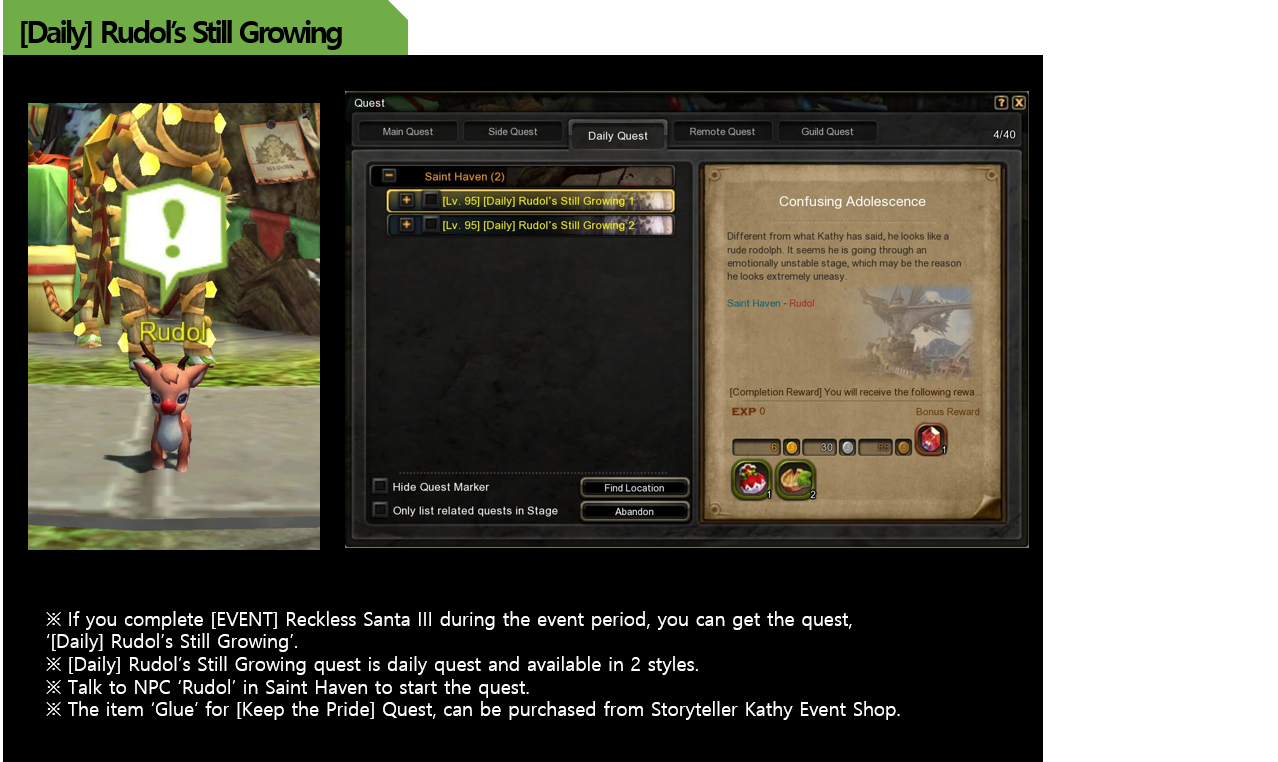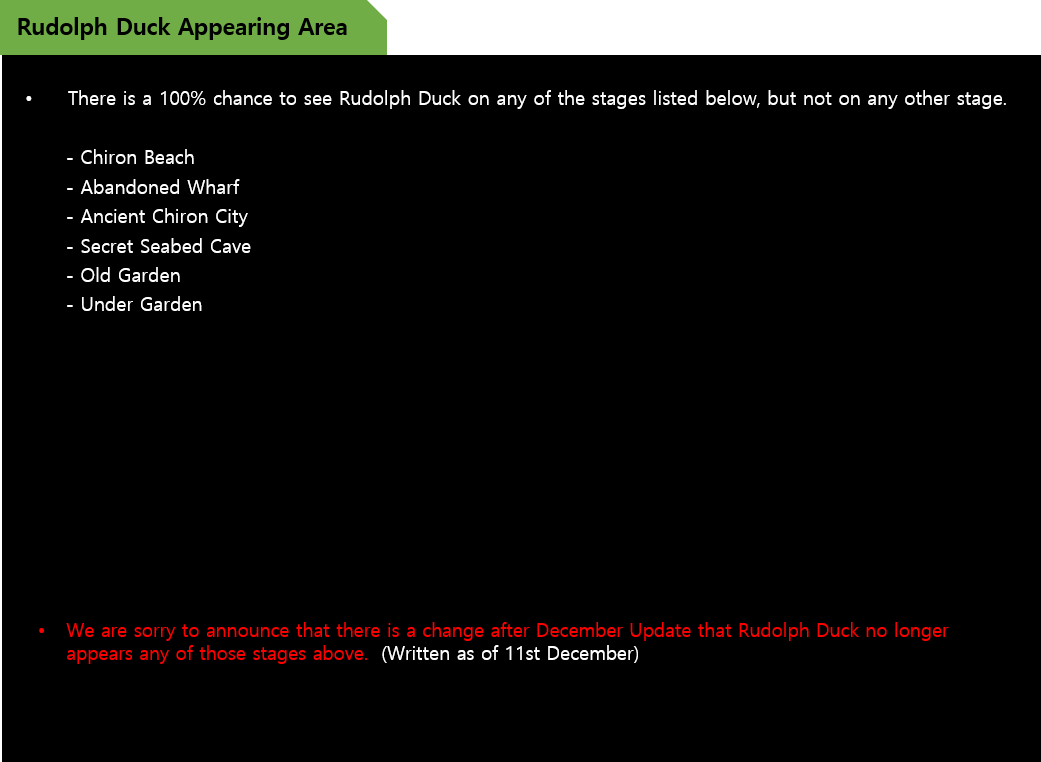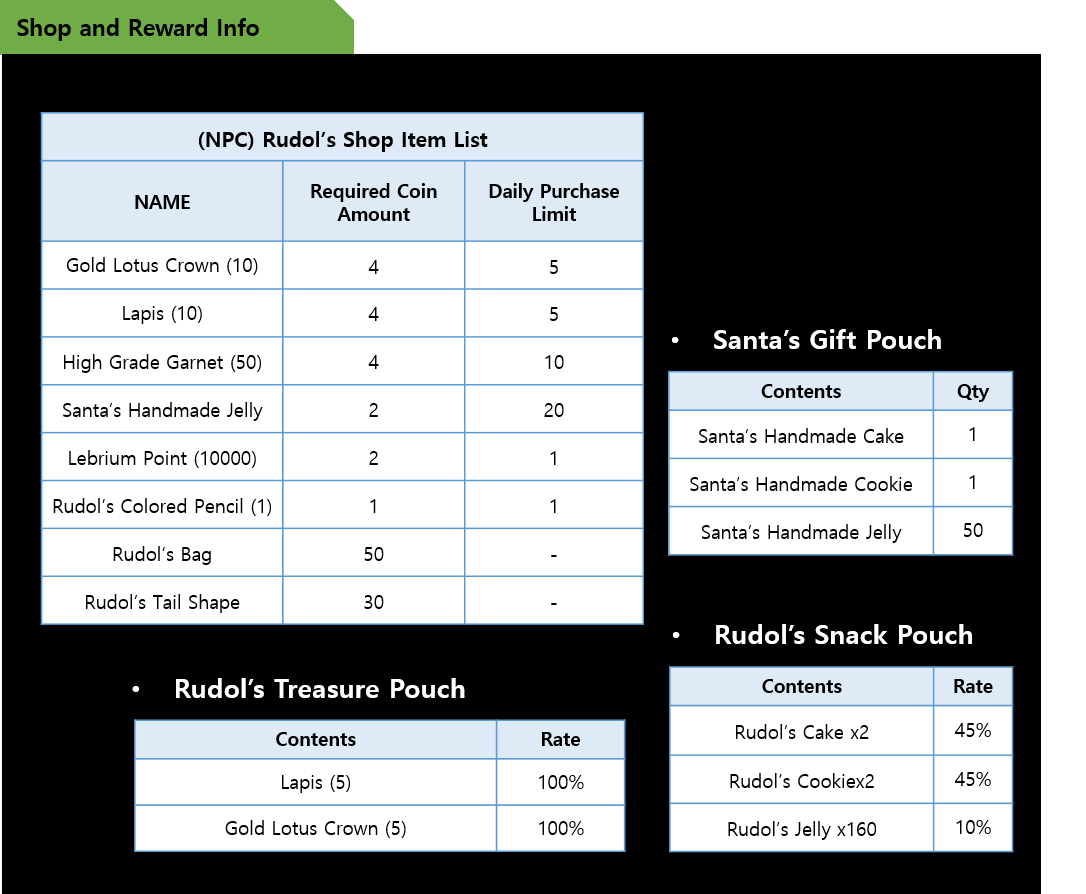 Sea Fishing is now open!!
Tired of hunting? Fishing event is back!!
Who will become the [Legend of the Sea] who catches the most fishes this time?
[Location]
Saint Haven East Gate ▶ Bonus Island Fishing Ground
Saint Haven West Gate ▶ Bonus Island Fishing Ground
Saint Haven South Gate ▶ Bonus Island Fishing Ground

What is Sea Fishing?
Unlike Fishing in the Farm, this is a Fishing Tournament where you can only enter during the event's opening hours.
1. Characters above Level 24 who have acquired [Secondary Skill]-[Fishing Skill] can do Sea Fishing for 30 minutes in [Bonus Island Fishing Ground] for each account.
2. Fishes caught in Sea Fishing will be accumulated in the Ranking and Top 10 players who have caught the most fishes can get ranking rewards.
3. Ranking will be calculated for each season and rewards will be sent to the mailbox at 9am.
* One season is divided into 2 parts. (Please refer to the schedule for more information.)
* Each account can participate for 30 minutes in one season.
[Sea Fishing]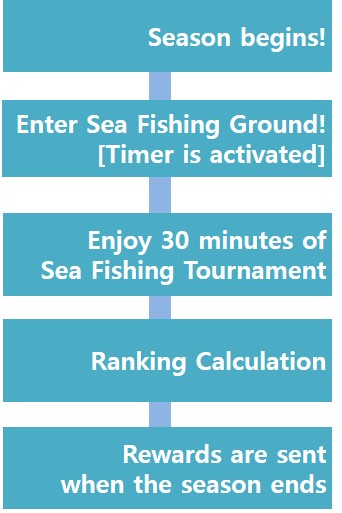 [How to Enter Sea Fishing]
You can only enter Sea Fishing from Saint Haven's South Gate. Click [Bonus Island Fishing Ground] to see more information.
You will see how full the currently available maps are, the opening hours, and the rewards you can get.
If the event is ongoing, select a Fishing Ground to enter and click [Enter] to enter the Fishing Ground.

[What's Special About Sea Fishing]
You can catch HUGE fishes in Sea Fishing.
You will see a special effect when you catch a big Sea Fish.
* Take note!
Q : How do I know how many fishes I've caught in the current season?
A : You can see a total sum of the size of the fishes you've caught at the right hand corner of the screen.
- The total size shown is only for one season and it will be initialized when a new season begins.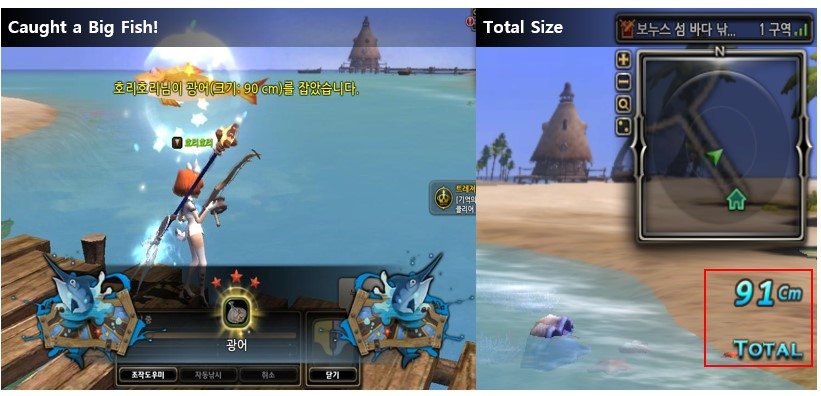 [Sea Fishing NPC]
You can get ranking information and buy fishing-related tools from Sea Fishing NPC Fishing King Salman located at [Saint Haven Southern Gate].
[Sea Fishing Ranking]
After talking to Fishing King Salman, select [Sea Fishing Leaderboard] to see the ranking.
Top 10 players based on the [number of fishes caught] and [total sum of the size of the fishes caught] for this season will get special rewards.
You can also buy [Fishing Rods] and [Baits] from Fishing King Salman.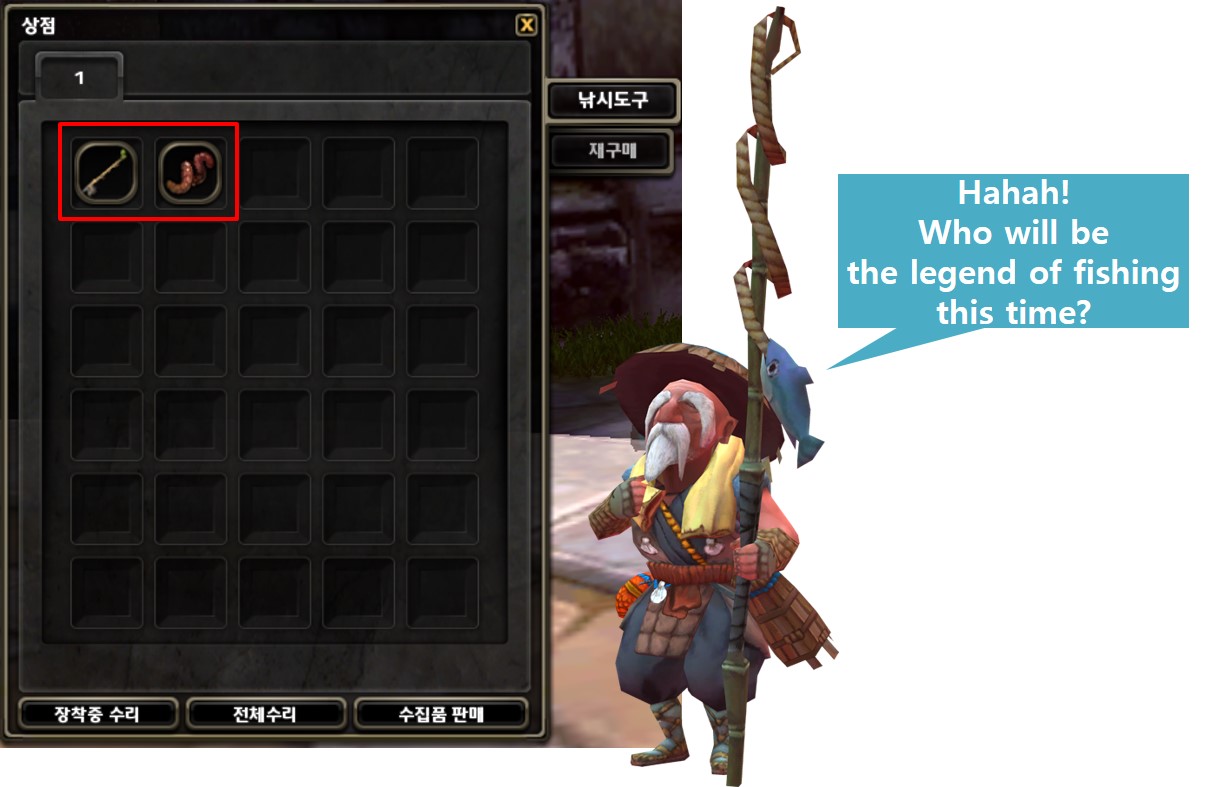 [Sea Fishing Reward]
You can get one of the following items from the reward pouch from the Sea Fishing Event.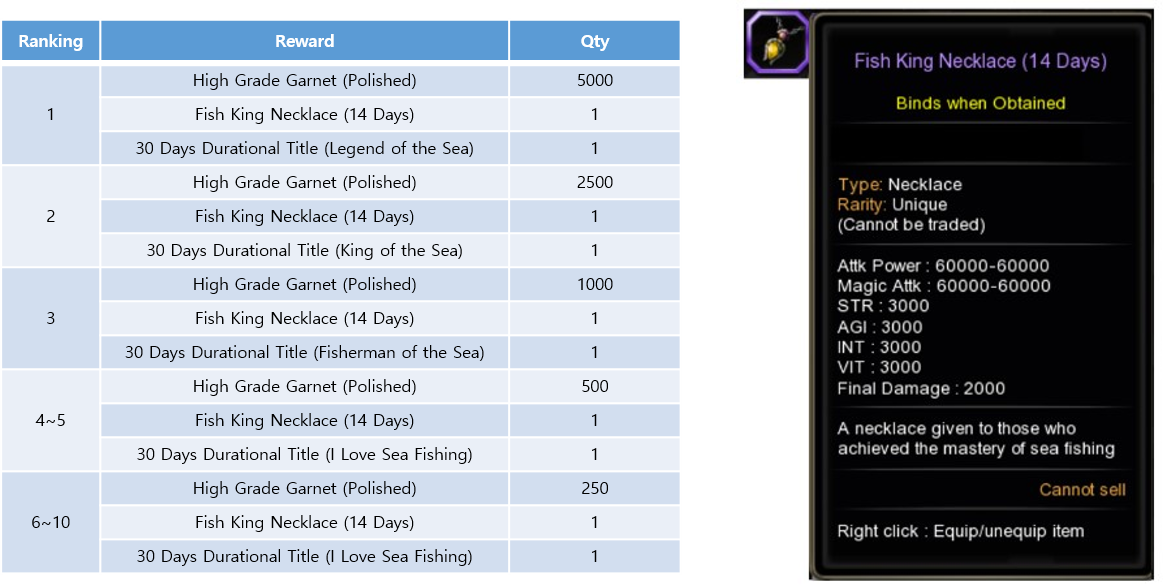 [Pouch From The Sea Contents]
Contents of Pouch From The Sea have changed.
You will randomly get one of the reward below.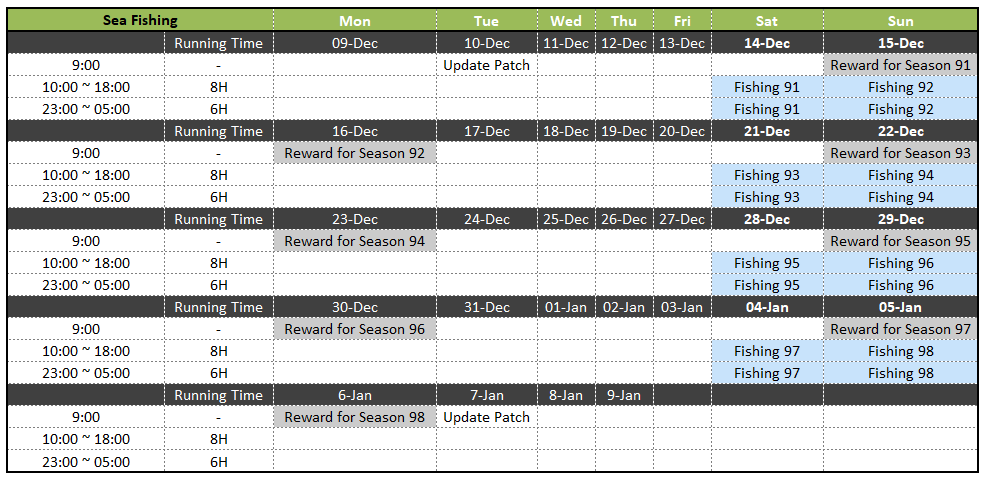 4-3. December Attendance Event
- From December Update, you can earn 1 'Goddess Coin' each time you attend before the next update.
* 30 Goddess Coins allow the exchange of 'Deep Twilight Box (Class-specific-Armour)' from 'Priestess of Darkness Canele' located in 'Sunset Watchtower'.
[5] Cash Shop
5-1. December Costume: Medicine Frontier Costume 2.0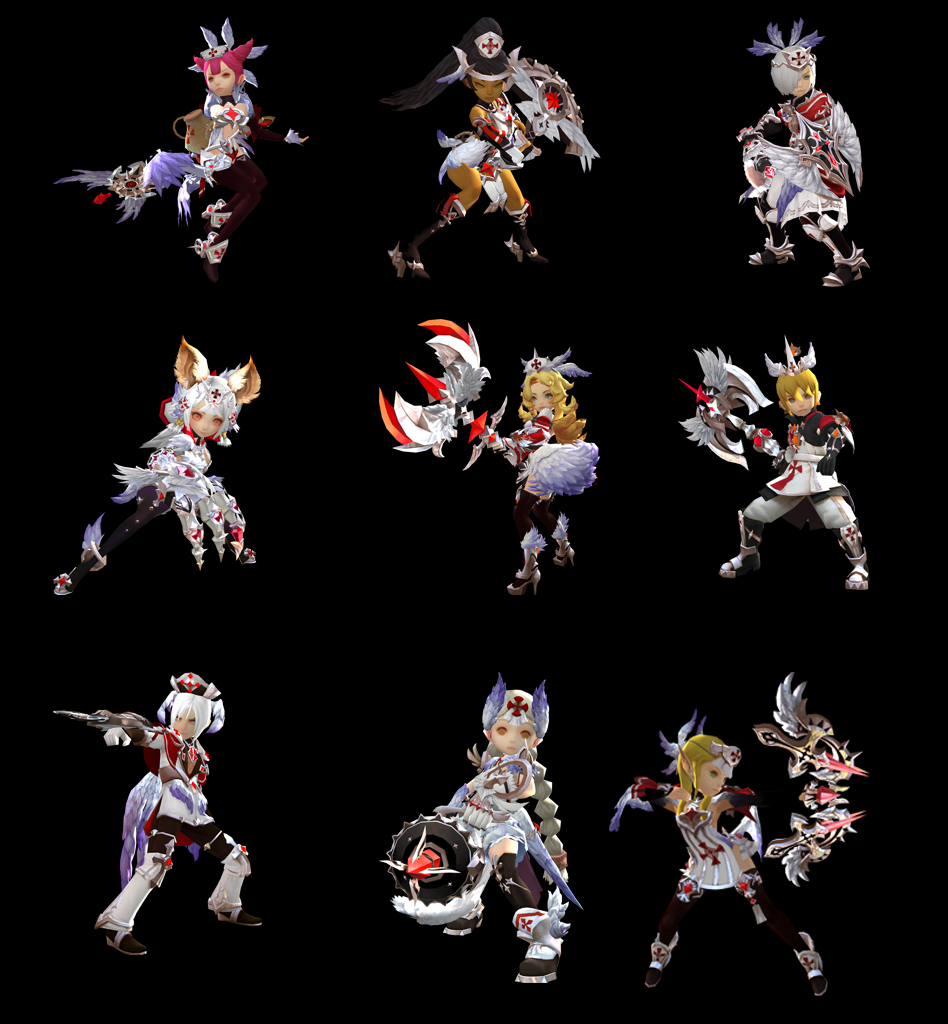 5-2. Christmas Double-Gacha Box
▶ Frozen Angel's Wings/Tail/Decal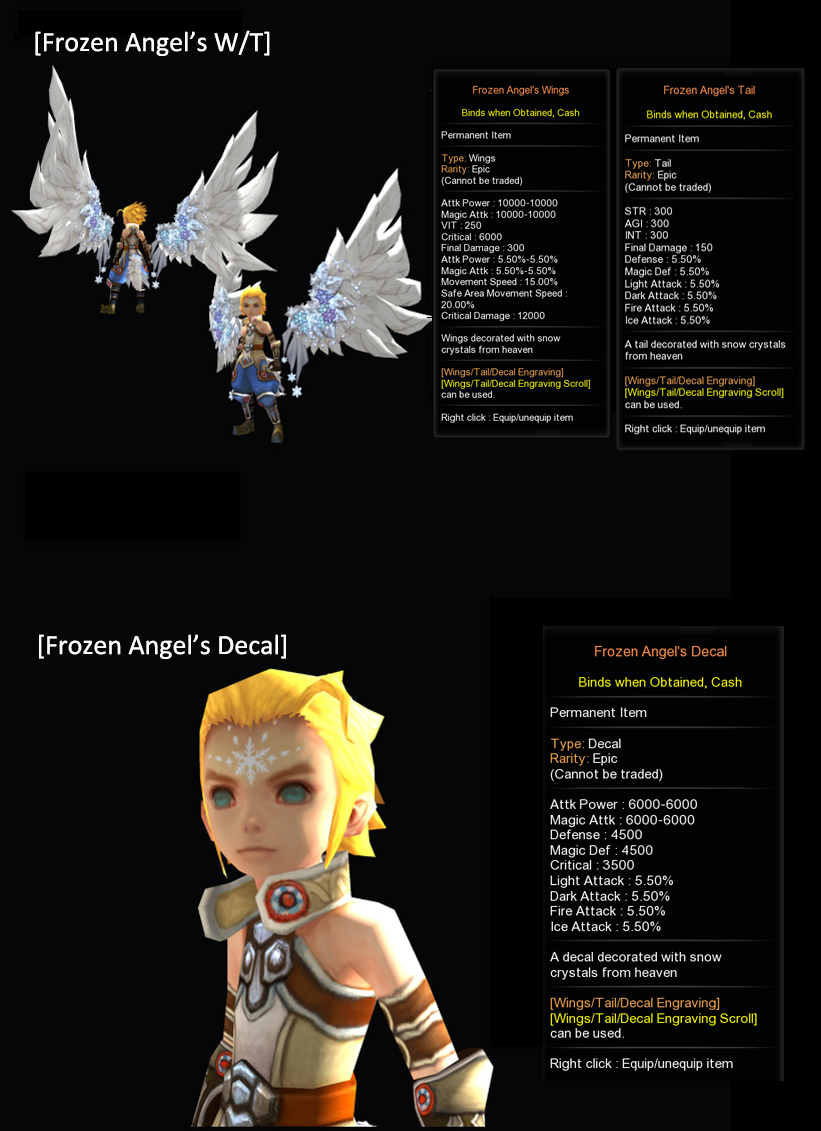 ▶ Coy Leaf Fairy Spirit (Growth Type)