■ Final Damage limit has extended. [100%(14944) → 120%(17933)]

■ Now, you can get Mirage Dragon Jade from NPC Palace Attendant Jeokwolyang '(God Lotus Crown Shop)'.

■ The acquisition place of Epic grade Hero Jade is changed to 'Jade for Newbies pouch'.
■ When using a flow-down of Vena Plaga in Forest Dragon Nest, certain debugging won't be removed.
■ Slow motion will not be applied when kill Bishop Gaius from Green Dragon Time Attack 1st Gate.
■ Lebria Heraldry Alpha Version can be destroyed.
■ The tooltip output when it is not possible to wear the pet accessory is modified in detail.
■ If you give up Red Lotus Palace's main quest "Suspicious Meeting," the issue that could not proceed with the next quest has been fixed.
■ Fixed an issue where destination descriptions wrongly were listed in sub quest <Teleju's decision>.
■ Fixed a crash that occurred when entering hot spring and farm after the January update patch.
[2] Event
◆ Best Hero Tournament (4-player)
< Best Hero Tournament > Is BACK!

● <Best Hero Tournament> where players battle purely based on their own strength has returned.
● Anyone who is at least Lv93 can participate to become the Best Hero!!
※ Stats of participants will be balanced.
[ Changes ]
●Entry ticket with new version has been added.
– You need to get entry ticket with new version to participate. Existing ticket is not allowed to use.
●Limit on the number of clears has been changed to 35 times a week.
●The monster's stamina is elevated.
●[Spectator's Cheer] buff effect will be downward.
[ Entry Ticket ]
● Where to get the entry ticket
- You can get the ticket by clearing Daily Tasks.
- You can get up to 1 ticket each day.
- Best Hero Tournament Entry Ticket is required to enter Best Hero Tournament.

[Entry Information]
● Entry level : Above Lv. 93
● Entry route: Each gate of Saint Haven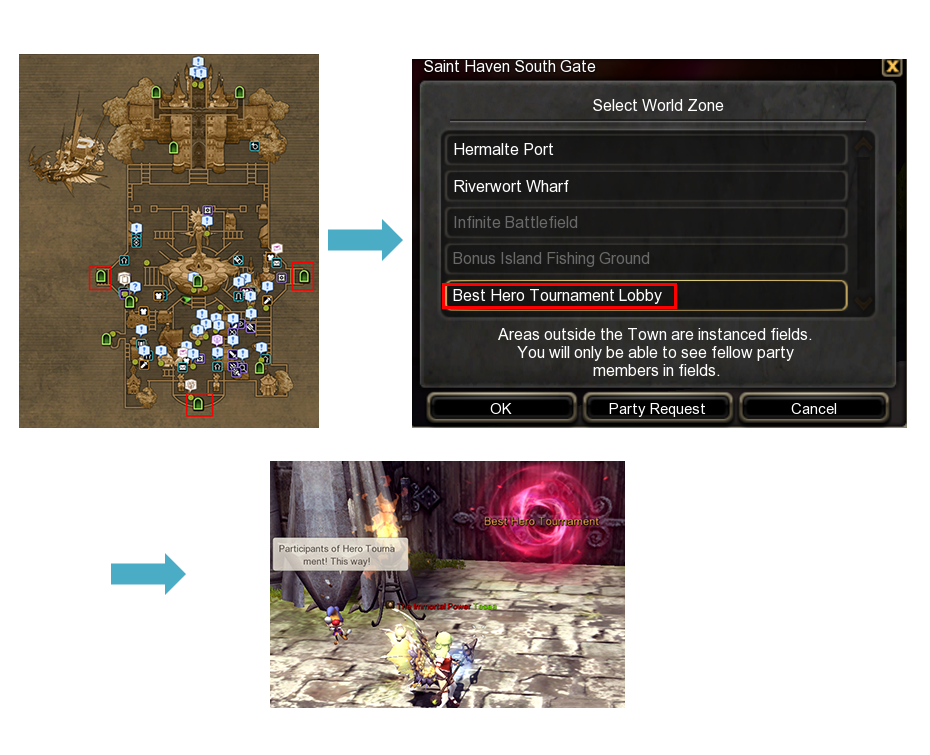 ● The maximum number of participants: 4-player
● Required item to enter: Ticket of Best Hero Tournaments 1
● Clearance count : 35 times a week.
● Resurrection count: 3
[Stage progress]
Stage goal: Defeat against the monsters chosen and chosen by the royal officials for victory!
Stage rule:
- User's HP, MP recover at each round clear
- Stage ends when all players are destroyed
Reward condition:
- Normal treasure chest: Boss stage 3rd round clear
- Hidden treasure chest: Boss stage 4th round clear
※ Automatically resurrects when defeating 3R and 4R bosses.
※ Stats of participants will be balanced.
※ Using of Hero and potion-based items are not allowed.
[Stage Contents]
●After 3R, you can enter 4R and exit stage according to the user's (party leader) choice.
●The number of stage clears will be deducted when 3R is cleared.
●When you clear 3R, 4R, you can get reward items from treasure chest.

[Reward Info.]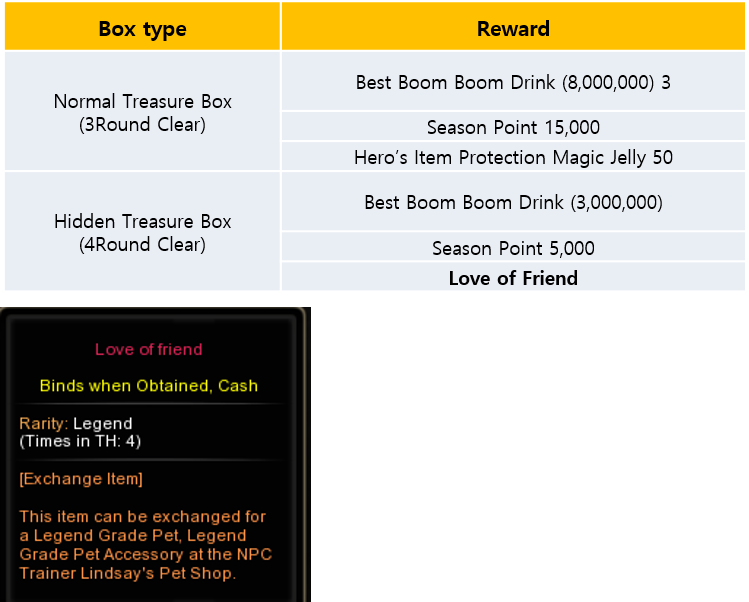 ※ [Love of Friend], which can exchange Legend Pet accessories, can be acquired with very low probability in the Hidden Treasure Box!
2-2. February Attendance Reward
From February Update, you can earn 1 'Goddess Coin' each time you attend before the next update.
30 Goddess Coins allow the exchange of 'Deep Twilight Box (Class-specific-Armour)' from 'Priestess of Darkness Canele' located in 'Sunset Watchtower'.
■ Everyone's Banquet Ended.
[3] Cash Shop
3-1. February Costume: Trumpet Musician Costume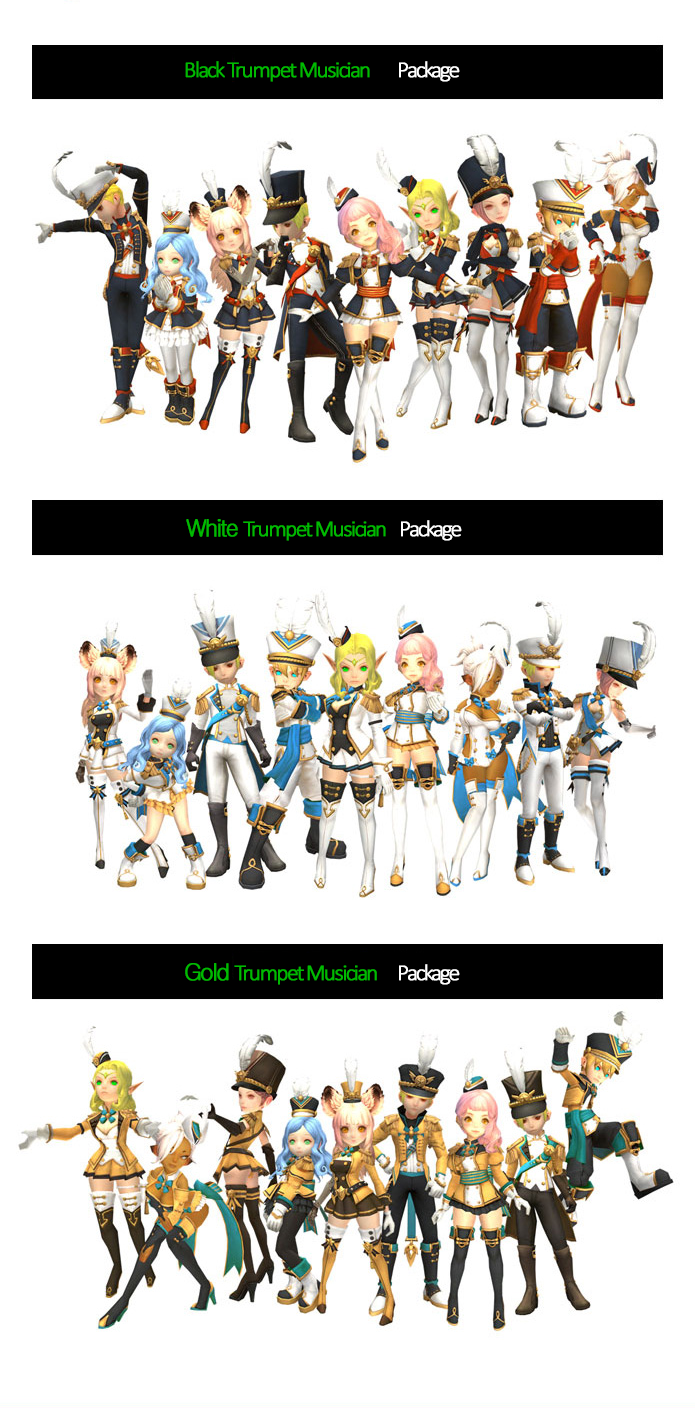 3-2. Red Lotus Palace Gacha-Box Update

- Sweet Candy W/T/D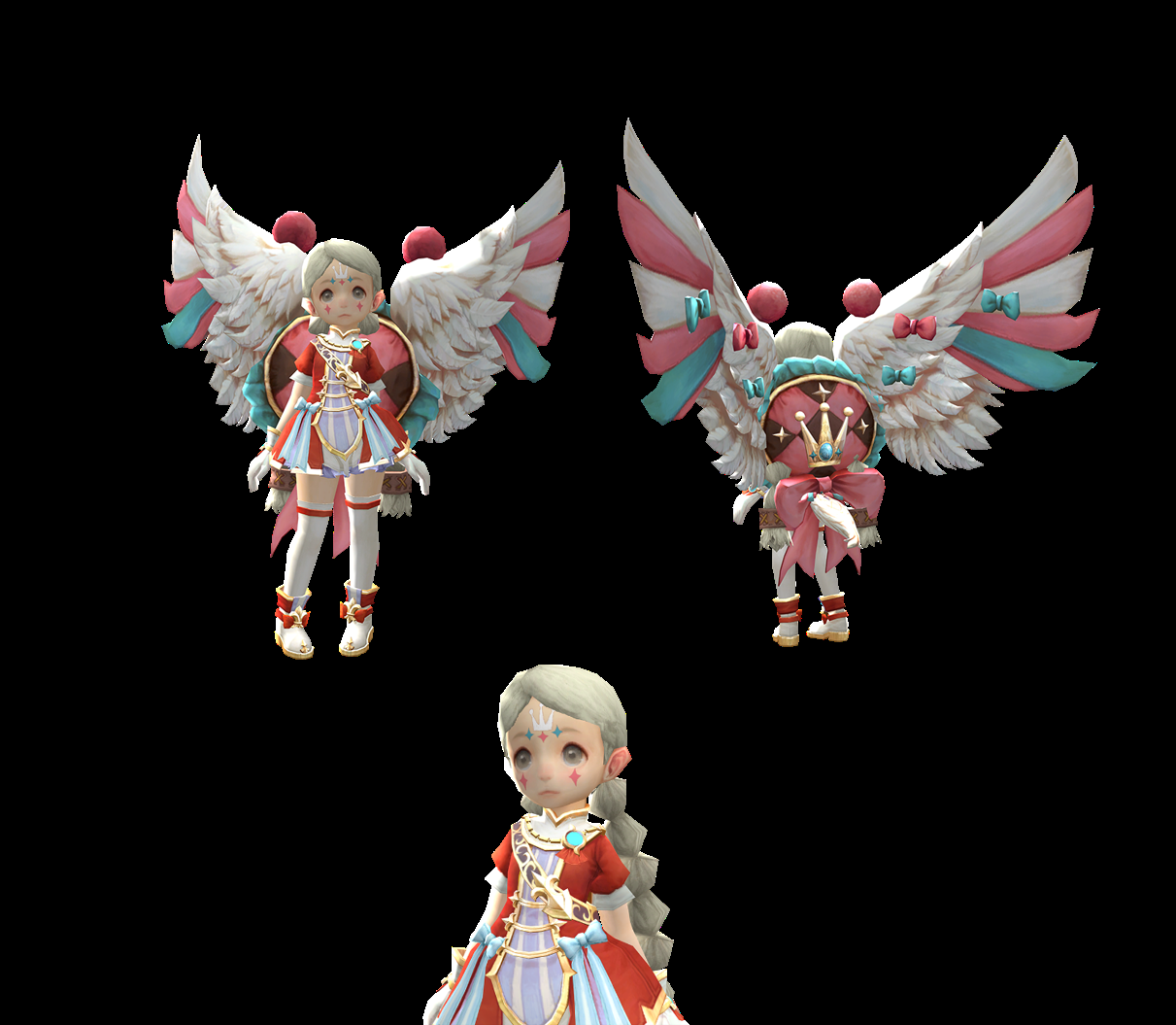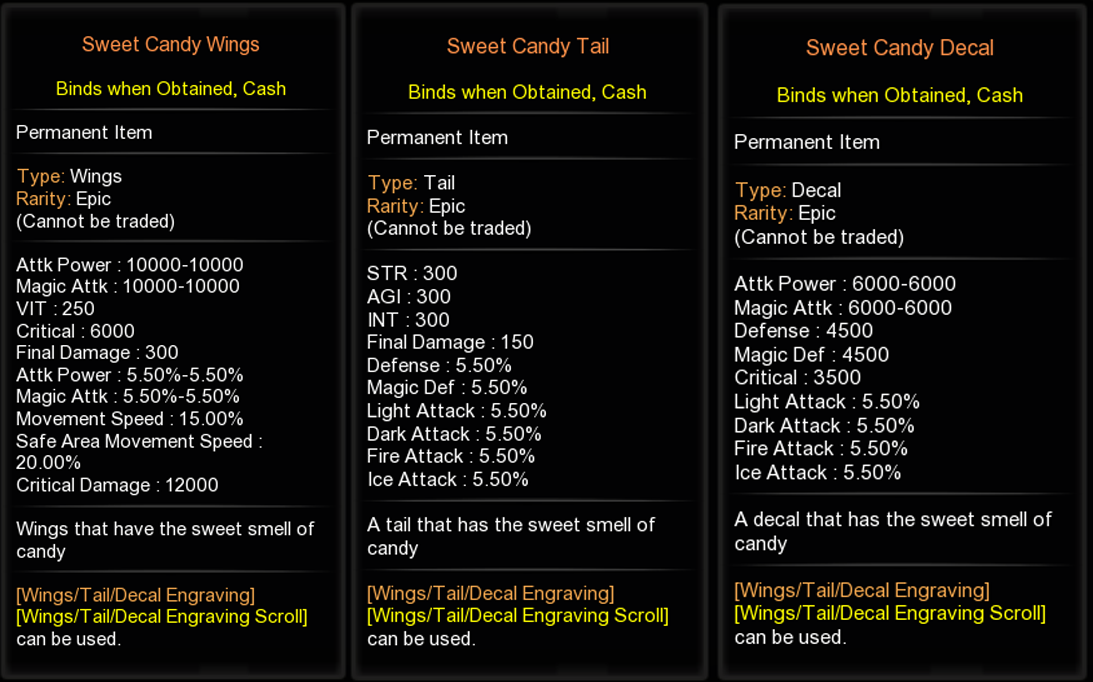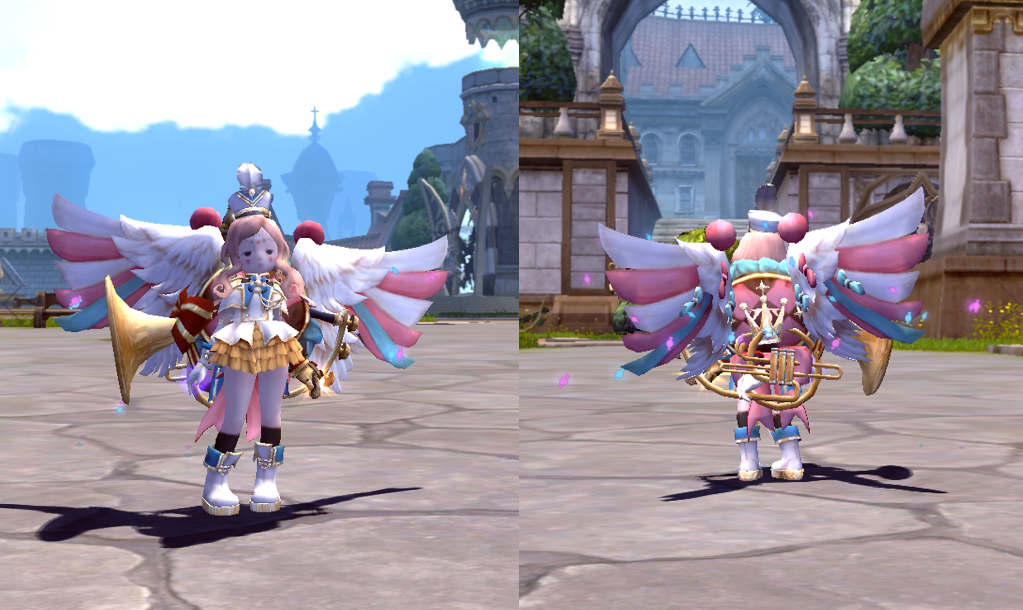 - Spirit of Fire Accessories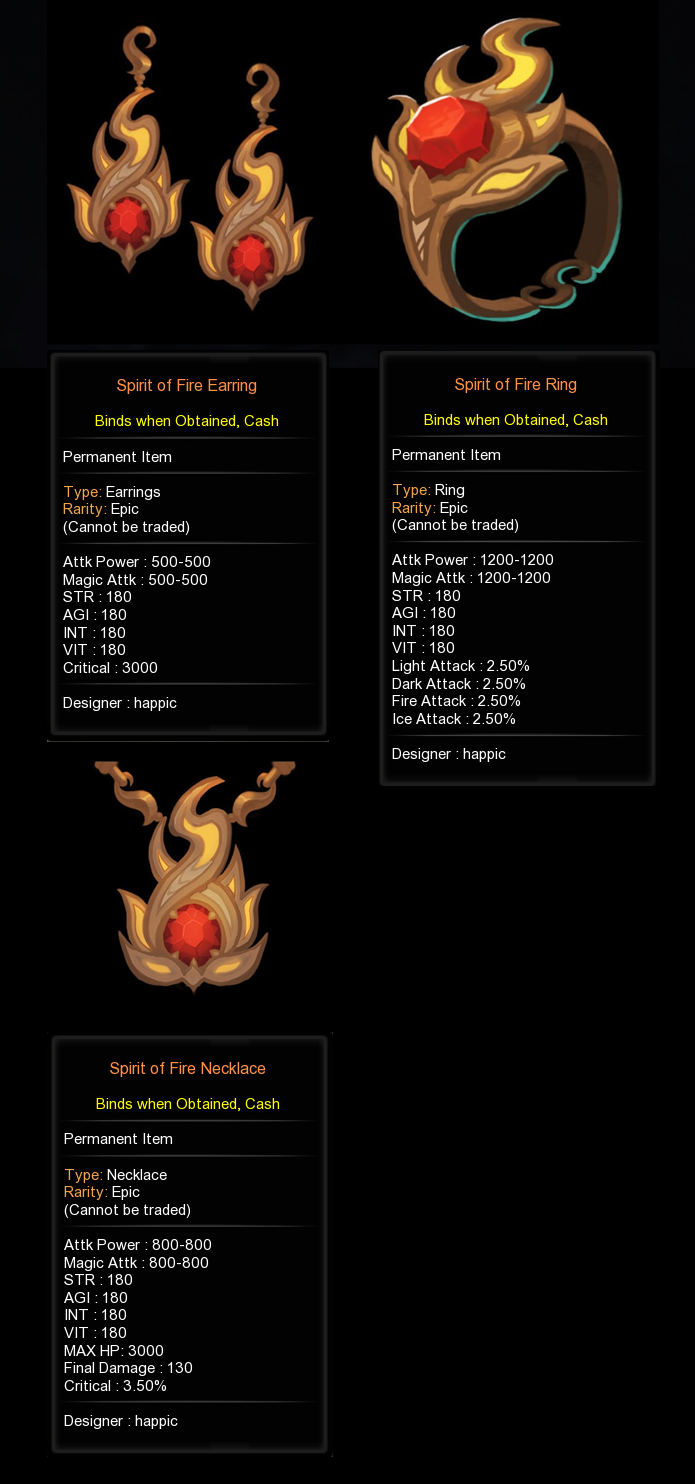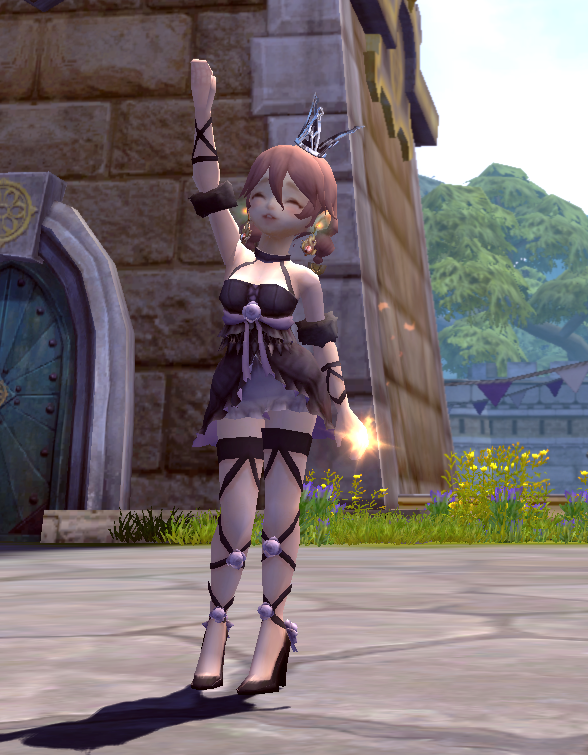 - [Somnium Luna] Mount 3.0 Update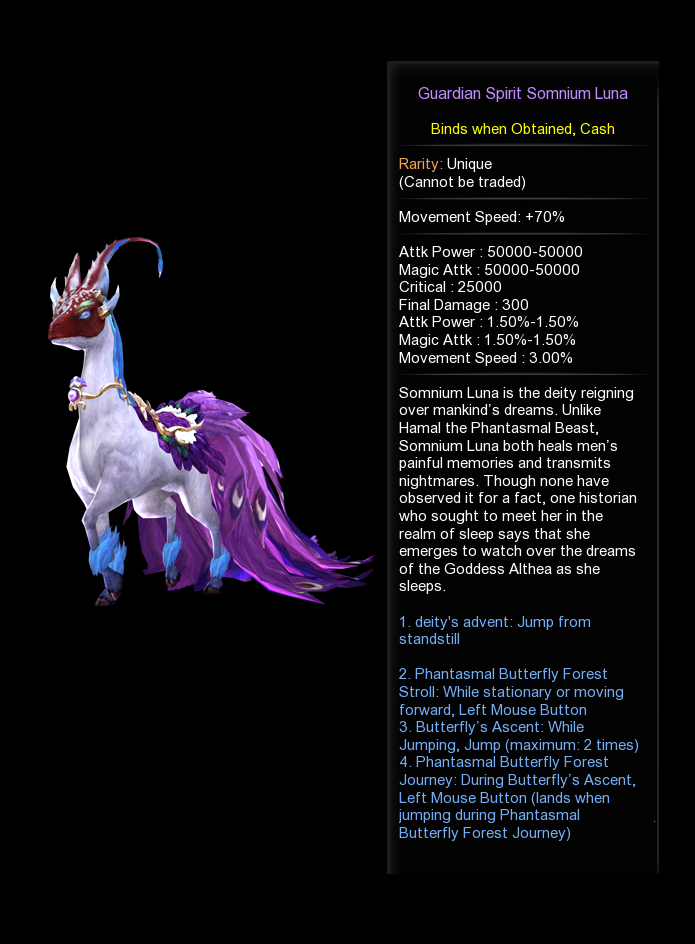 ◆ Mount 3.0 New Opening
(1) Mount 3.0 type of [Somnium Luna] is released.
(2) The final step of mount able to evolve [Guardian Spirit Somnium Luna] specializes in critical stat/properties.
(3) You are no longer able to acquire or evolve [Blue Unicorn, Blessed Blue Unicorn, Holy Blue Unicorn] and [Young Pegasus, Noble Pegasus, Goddess-Blessed Pegasus].
(4) [Somnium Luna] can be purchased with 600 Lindsay Tokens from Lindsay Trainer NPC.

- Mount 3.0 System Improvement/changes
* Mount (1st step) as key item is removed from Red Lotus Palace Gacha-Box.
1. Mounts have a 100% chance of being evolved to the next level without failure.
• When disassembling items in each step of the Unicorn and Pegasus, the number of coins consumed to create each previous item is gauged to be paid. (Please refer to (4) below for more details.)
2. The previously launched 3rd step mount's stats have been upgraded.
• Added 1% of Light/Dark/Fire/Ice Attack to the [Holy Blue Unicorn].
• Added 6000 Defense to the [Goddess-Blessed Pegasus].
3. Pegasus icon image changed (changed from a horse image to a mount image)


4. The disassembly gauge obtained during mount 3.0 rotation has been increased.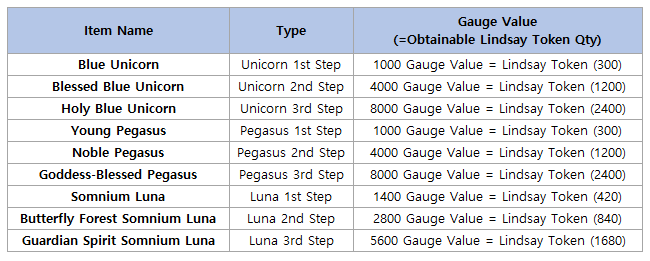 [Synthesis Epic Weapon Exchange Coupon] is changed to Server Storage (Cash) usable.