[GM EVENT 1 : Ring My Friday!]
Every Friday in New Month! [GM] Loren supports enhancement supportive items for you all.
Login every Friday and claim the rewards below from your special storage!
Everyone good luck and get a win against Blacksmith!
[Event Period]
4 days
GMT+8 Standard
2021.01.08 00:00 ~ 23:59
2021.01.15 00:00 ~ 23:59
2021.01.22 00:00 ~ 23:59
2021.01.29 00:00 ~ 23:59
[Event Reward]
Item Protection Magic Jelly (1,000)
Lebrium Point (25,000)
Lapis (60)
Gold Lotus Crown (50)
[NOTE]
①This event is based on an account basis and only 95 level characters can receive the rewards.
② GM's decision is final.
---
[EVENT 2 : Invitation To The Maze]

★ [Event Date and Mechanics] ★
1. This event will be held on 13th January, 18th January, 27th January, 2021 for a total of 3 days. (GMT+8).
2. GM will play [Fission Maze 13F] with players 2 times each event date.
The time of the event is random and will be guided through the in-game notice or Red/Bluebird when GM appears.
*The total number of winner: 18
3. [GM]Loren creates a private party room and announce a quiz before proceeding with the event play
through in-game notice about the password for 15 seconds.
4. The party room slot will remain 3 except for GM.
GM and party-joined 3 players must clear the maze for each round who have been partied in the following method.
Quiz example:
Q. When the K-POP boy group BTS debut?
Password & Answer: 2013
5. Users should enter Loren's party room after answering the quiz correctly as soon as possible.
This event and party room will be run on a first-come, first-served basis.

6. When 3 people enter the party, separate notice or a Red or Bluebird will be exposed to announce the closing.


6. Participants who have cleared the mission with GM until the end to receive the following reward.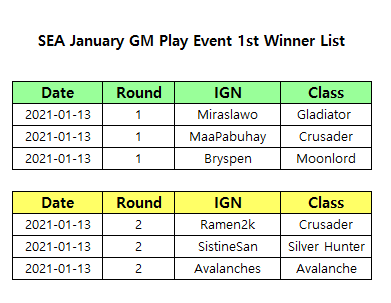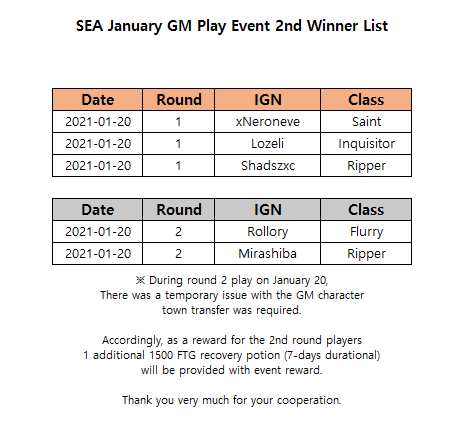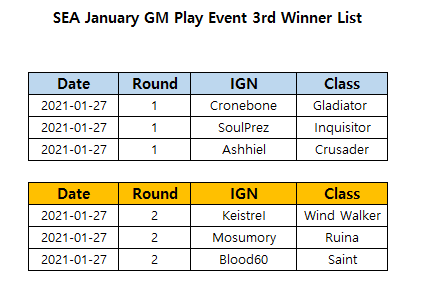 [Event Reward Info and Reward Date]
Minos Fragments (20)
Minos Lebrium (20)
FTG Recovery Potion (6000) x1
▶ Reward Date: 31st of January, 2021 00:00 (GMT+8)
▶ All winners can claim the above prizes until 7th February 2021 at 23:59 (GMT+8).
▶The event reward will be delivered on an account basis.
▶After finish, each play, [GM] will suggest taking official screenshot time.
It can be used for future inquiries such as reward delivery issues so make sure to save a screenshot on your end.
[NOTE]
▶ The event date may change.

▶ Matched users (event winners) will be announced later in this event notice.
▶ Duplicated winner selection won't be applied.

-Example: If A is selected on 2nd July, A won't be selected even if match and clear for the next time.

-Example: Even if there are duplicated cases, there will be no additional play match to recruit new winners.
GM will play only 6 scheduled times.


▶ If the user interferes with DC/departure/play progress during play, the user will not be recognized as 'participation'.

All players must 'Clear' until the end to be recognized as one participation.
▶In the case of GM disconnection and meeting connection issues during the play,
all users who participate during the playtime are recognized as 'clear participation'.
Regardless of this rule, to prevent such mishaps, GM will be prepared to play in the most stable environment surely.


▶ If there is any difficulty in progress due to server issues or other issues, we will notify you through a separate notice.
▶ GM won't be accepted any inquiries during the event time.
Anyone who keeps asking and trying inquiries,
GM can leave the match and party and the matched players lost their participation qualification automatically.
▶ Using offensive language vulgarity can be sanctioned with the following operation policy.
▶ GM's decision is final.