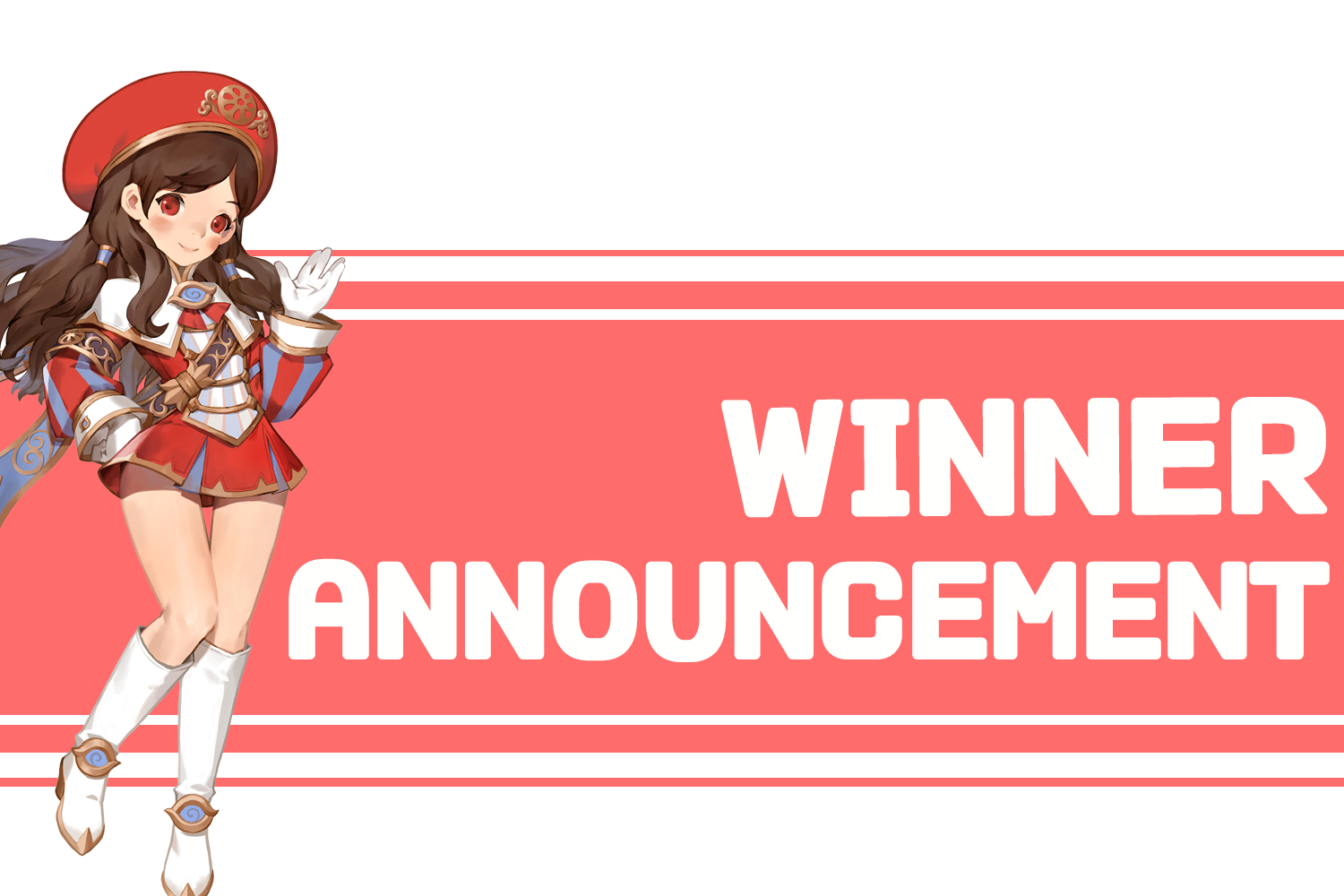 [Updated as of 1st July]

Our team is very excited to finally announce the lucky winners with this update.

Your sincere text made the daily life of many staff, including GM, sometimes enjoyable, sad, and energized.
We sincerely thank everyone who participated, and we will never forget the love of adventurers towards Dragon Nest.


All rewards will be distributed during the July update, and they can be collectible by midnight on July 13th (GMT+8).
Uploading Dev's blog posts starts sequentially after July 18, and if any of the winners have an image you want to upload in the post, please check the specifications below and submit via 1:1 inquiry by July 17.
Congratulations to all the winners!
※Use the Ctrl+F function to search for IGN =)
[Winner List] (Total 52)
Dev1lJh0
Shienouhx
KyaNin
SoraCutie
Yuyuie
Klausve
Yvonella
xMobKun
xSrEcchix
Nercato
KDPA
PatheticMe
RozenKauza
Demetreous
Phycicilan
ReapMan
jejemon10
Cirvhona
MikaelJr
VirtuousCL
YuinaIce
Izerioun
iDvnRpr
QunnGunn (QuzzGunn)
XkerenX
LaLynch
LinJieHao
Lorallite
xJeyPi
Darkminard
ELAnubis
DarkSkippy
Izrails
JunSongYi
ALaXanXR
TrendDCake
BlumErika
Nazilus
HAKZUO
Hanybeanie
AuntynSy
Cesezgia
GawrGuraEN
Rainnella
XKurifodoX
M1koSakura
xRenKaeden
xNiichaNx
BSNautilus
UmbralHevn
Kiriume
Tanashri

---

SEA adventurers, Tell us your story of Dragon Nest!
[GM]Loren and the Dragon Nest studio staff are ready to hear your precious memories and stories.
Those selected as the best story will be officially posted on the Dev's blog, and the following rewards will be presented.
Please read the details below on how to participate. We are waiting for you with pleasure!
---
[Event Period]
2021.06.18 ~ 2021.06.25 23:59 (GMT+8), 7days
[Event Queries]
※ Please check below for queries you need to participate in the event. You must fill in all the fields carefully to be considered for normal participation.
■E-mail (Please enter the e-mail address currently registered on the SEA server)
Q1. Please introduce yourself with your IGN.
Q2. Please explain what made you play Dragon Nest!
Q3. Do you have the best moments while playing Dragon Nest?
Q4. If you have your own know-how to enjoy Dragon Nest even more, please share!
[Event Rewards]
Official Post on Dev's Blog (Permanent)
Love of friend Pouch (3)
DNP 30,000
[Event Details and Note]

① During the event period, please write and submit your story precisely on the Google survey form we have prepared. Don't forget to write down the IGN!
② During the event period and after the event is over, the GMs and other team staff will conduct a review to select the best story up to 70. We will make an announcement as soon as possible after closing.
③ Winners can receive the rewards shown above with level 95 characters during the July update patch, and the winner's stories will be sequentially uploaded to Dev's Blog.
④ The event is held on an account basis, and each person can participate only once. (Duplicate participation is not allowed.)
⑤ Only text in 'English' is allowed in this event for accurate review and appropriate event progress. (Grammar, typos, length. do not affect the review result.)
⑥ Players who submit profanity, inappropriate expressions, or excessive slander, discrimination may be restricted from using the game service according to the relevant policy and GM's discretion.

⑦ After the event winners are announced, the winners can submit the images to be displayed on Dev's Blog to 1:1 Inquiry. The capacity is limited to 2MB, the size is 1200x400 pixels, and the extension is JPG.
⑧ Tickets regarding this event are accepted until July 18, 2021, 23:59 (GMT+8).
⑨ Only SEA server players are eligible to participate in this event.
⑩ The details of this event may be extended, reduced, or changed at any occasion in accordance with the operational situation.
Happy Nesting and Good Luck! ᕙ(^▿^-ᕙ) ♥